VOYOR-HEALTH Double-head Electric Massager MH260
Regular price
$49.99
/
Standard shipping charges 5$, including tax
---
VOYOR-HEALTH double-head electric massager brings you a double comfort experience,don't you want to try it?
In addition, you will be amazed by the powerful functions which provide stepless speed control feature and multi-functional heads, so that the deep tissue electric massager can customize your different needs and effectively relieve your muscle pain in the back, neck, arms, shoulders, waist, legs.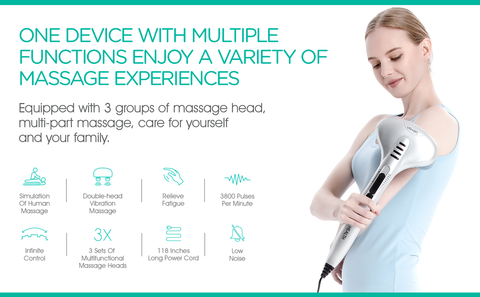 Product details:                       
FULL BODY PAIN AND FATIGUE RELIEF
Powerful percussion massage of 3800 pulses per minute can deeply penetrate into your tightest muscles to effectively reduce pain and fatigue from joints, sports injuries, arthritis, muscle knots, stress, improve flexibility and bring you a more healthy life.
6 FUNCTIONAL MASSAGE HEADS
Offer you multiple massage experiences like kneading or percussion and make it easy to customize your own home massage. It is like your own personal massager and saves you money by hiring a massage therapist.
EASY STRENGTH CONTROL
Thanks to its stepless speed control feature, it is so easy for you to adjust the best massage strength level from gentle to intense to satisfy your different needs for different body parts like up and lower back, neck, arm, shoulder, waist, leg, foot, etc.
LOW NOISE & SAFE DESIGN
The unique lower noise design (less than 60db) makes it more comfortable for your daily use. 15 minutes auto power off function can prevent overheating and ensure the safe use of your family. One button switch feature makes this back massager handheld so easy to operate even for elderly people.
FASHION & GREAT GIFT CHOICE
2.5 Meters long power cord design gives you greater flexibility during usage; The silver ergonomic handle design makes the massagers for neck and back look so fashionable; and it is also a considerate gift choice for your parents, friends or loved ones.
How To Use:
Choose a suitable massage head according to your different needs and install it to the device.
Connect the power plug with your power socket, then turn on the massager, adjust the massage intensity to your most comfortable level, switch from 6different massage modes according to your different needs.
Guide the device with both hands to the area of the body that need to be massaged.
After using for a maximum of 20 minutes, press the ON/OFF button again to turn off the massager, then unplug it and let it cool down. Keep the device dry.
Specifications:
Product name: VOYOR-HEALTH Double Head Massager
Model: MH260
Material: ABS
Working voltage:110V (US) 220V – 240V(EU)
Working power:25 W
Product size:44*19*13.8cm
Product weight:1 kg
Package Content:
1 x VOYOR-HEALTH MH260 Double Head Massager
6 x Massage nodes (3 pairs)
1 x User manual
Warm Tips:
Do not insert any objects in the device apertures or in the moving parts. Ensure that the moving parts can move freely at all times.
Do not use the device continuously for longer than 20 minutes to avoid overheating. Let the device cool down before using it again.
Do not massage a certain part of your body for longer than 3 minutes.
Never cover the device when it is switched on (with blanket, pillow, etc.)  
Please do not use the device on burnt, traumatic or fractured area of your body.
Water must never get inside the device. Never submerge the device in water. Never use the device in bath, shower or swimming pool.
Consult your doctor before using this massager if you have caught a cold and with high temperature, varicose veins, thrombosis, vein inflammation, jaundice, diabetes, pregnancy, nerve disorders (e.g. sciatica), or acute inflammation.
If the device body is stained, use a soft cloth with neutral detergent to clean it; never use a caustic solution to clean the device, such as alcohol, gasoline or other chemicals.
OUR GUARANTEE
Product Warranty-All products purchased from VOYOR-HEALTH come with 2-year warranty.
Unconditional return-You can enjoy a 30-day no question asked return policy after purchasing from our store. Please send us an email before returning the product, we will offer you the relevant return information.
Frequently Asked Questions
How long is the product's warranty? The product is broken, can it be replaced?
The warranty for VOYOR products is two years. If you have any questions about the product, please feel free to contact us.
We will do our best to help you solve the problem. Please click here, and be sure to attach the order number so that we can help you better deal with the problem. Thank you.
For detailed refund policy, please click here.

How to return the products? Is there a refund?
We will refund no-asking within 30 days. If there is any dissatisfaction with the product, please contact us in time and we will tell you the address where the product can be returned and related refund matters.
For detailed return policy, please click here.

How long will it take to receive the products after placing the order?
When your order is completed, we will deliver the products for you within 24H, if there are no special circumstances. If there is, we will contact you in advance. We will arrange delivery according to your geographic location, and you will receive the products within 3-7 business days.
For detailed shipping policy, please click here.
About free gift or QR code
If you have received a free gift card or the QR code is invalid, please contact us directly through the contact us page and we will teach you how to get a free gift.
Didn't find your answer?