VOYOR Neck and Back Massage Pillow YZ100
Regular price
$51.99
/
Standard shipping charges 5$, including tax
---
Too busy to reserve a massage therapist? Why not enjoy a private massage anytime, anywhere with a massage pillow? All you have to do is sit down, press the "on" button, and let the pressure go.
VOYOR heating massage pillow with 6 shiatsu kneading massage nodes mimics a real massage therapist's hands. It's also worth mentioning is its heating function which can enhance blood circulation and relieve aching muscles and fatigue more effectively.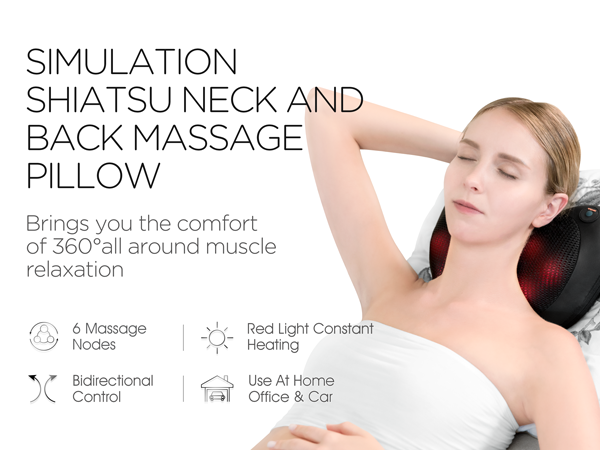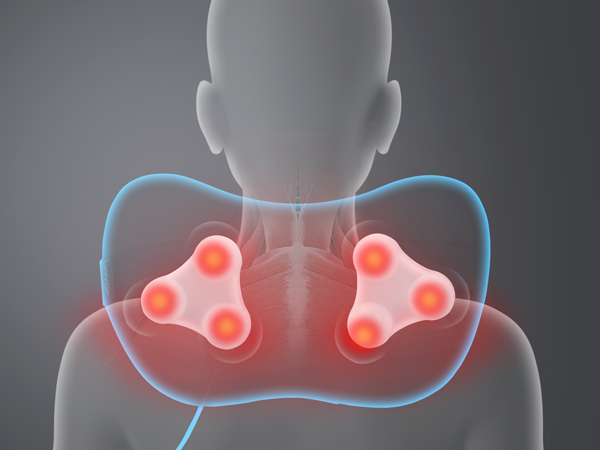 Relieve Muscle Pain
Powerful 3D deep kneading massage nodes
6 simulated real kneading nodes, accurately reach pain points, deeply relieve muscle tension & pain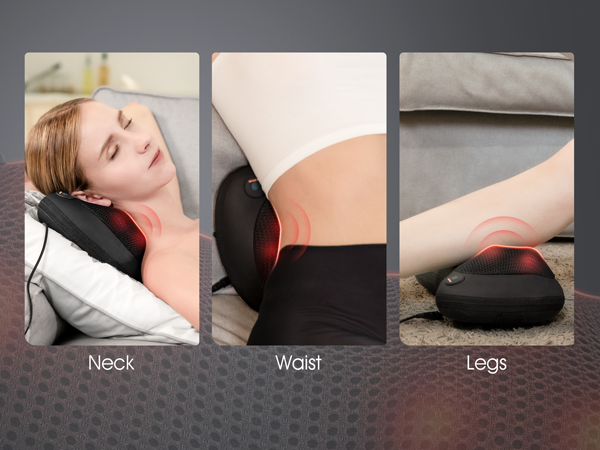 Ergonomic Design
W - shaped design perfectly fits the body curve
A multi-site massage that perfectly fits your neck, back, waist, legs & belly for true relaxation
Adjustable Speed
3 Adjustable speeds of low, medium and high
This neck massager has 3 speed intensity levels to allow you to get the right and proper pressure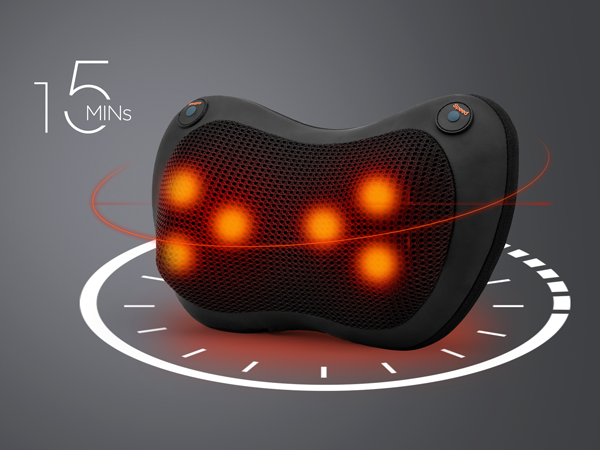 15 Minutes Auto Shut-Off
Efficient relaxation moments
Built-in intelligent turn off protection to provide you the safest & most comfortable massage time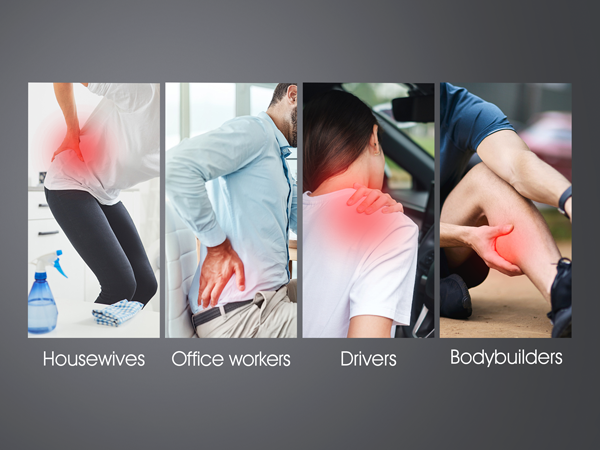 Versatile & Portable
Suitable for tight-muscle people and easy to carry
Suitable for different groups of people, and the size is same as A4 paper, easy to enjoy it anywhere
Product details:                

Red light constant heat
Advanced strengthening heating, boost blood circulation, completely relieve tight muscles. Warm massage, more intimate.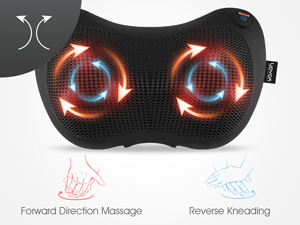 Bidirectional rotation
The kneading direction will automatically switch every minute to ensure that your pain points are accurately touched.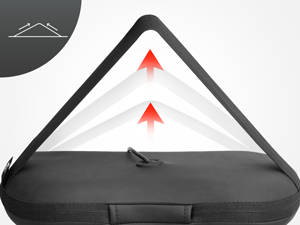 Adjustable & portable straps
Secure the massager with the straps for optimal comfort. It can be attached to your favorite chair, sofa or car seat.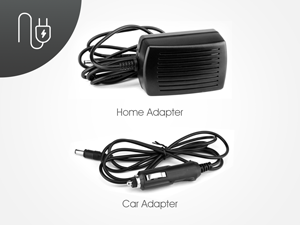 Multi-functional adapters
Equipped with home and car adapters to ensure you enjoy a relaxing massage at home, in the office or after a long drive.
   Specifications:
Product name: VOYOR Multi-functional Massage Pillow
Model: YZ100
Material: ABS
Working voltage:110V (US) / 220V – 240V(EU)
Working power:25 W
Product size:30*12*20 cm
Product weight:1.05 kg
    Package Content:
1 x VOYOR multi-functional massager pillow
1 xPower cable with adapter
1 x Car cigarette lighter
1 x User manual
One button to quickly turn on the device, and soothe the heat.
3 Speeds of low, medium and high rotation, customized your massage.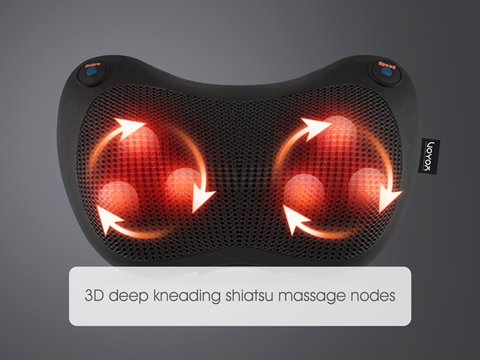 6 Deep kneading rotary shiatsu massage nodes effectively relieve pain and muscle tension.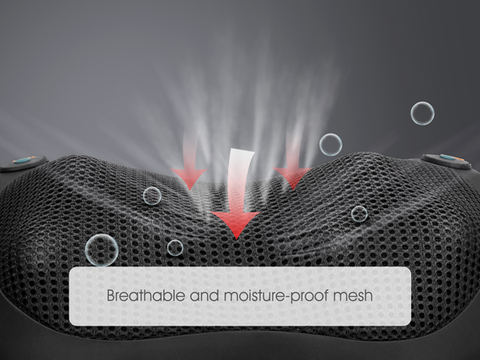 Double layer mesh for maximum reinforcement and long lasting wear.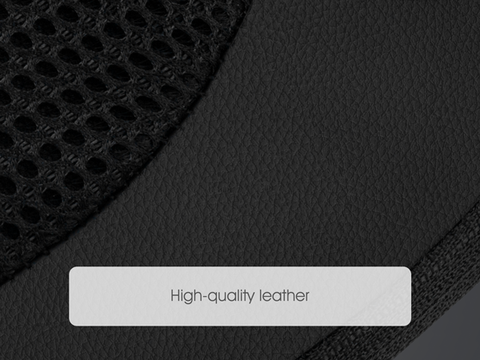 Made of cruelty-free, durable PU leather that is soft to the touch and easy to clean.
How to use this massager pillow properly?
Guidance for operation:
Easy to start and choose the suitable intensity to enjoy the massage SPA within a scientific time.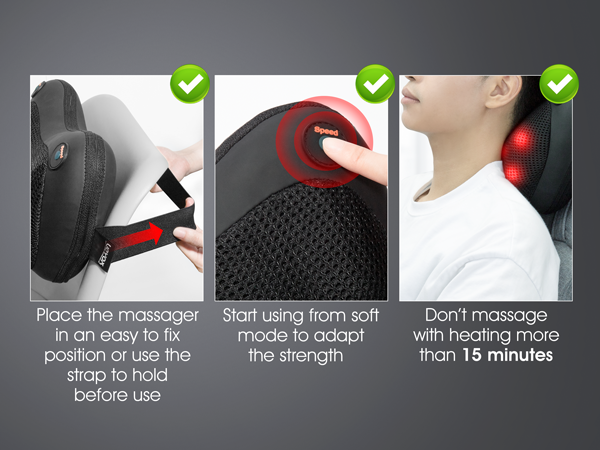 Warm tips:
Please start a soothing massage according to your own condition to achieve a better result.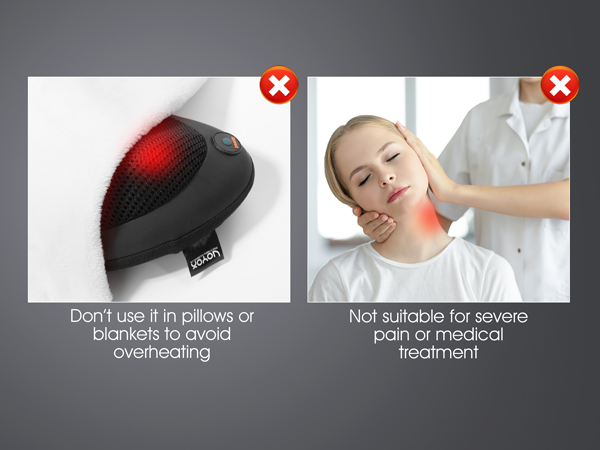 Free your hands for freedom of body:
Leaning on the office chair, sofa or car seat that gives you a comfortable massage experience and reduces your fatigue at home, office or even on the go.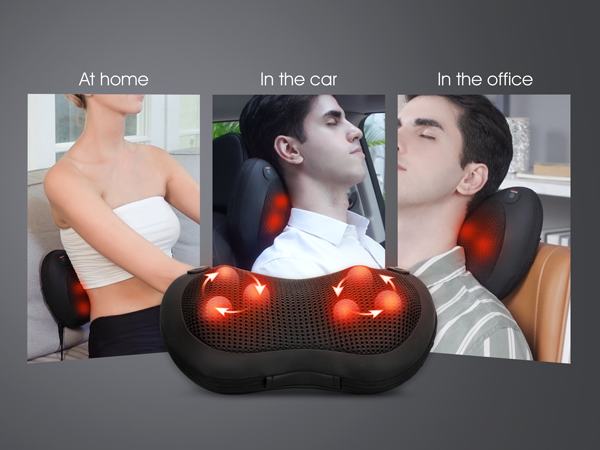 An exquisite & practical gift:
You can treat yourself or send it to your elders, friends, and give your loved ones a warm and healthy care.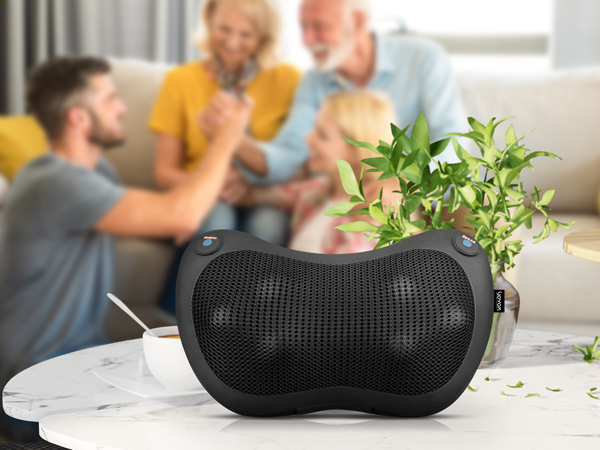 OUR GUARANTEE
Product Warranty-All products purchased from VOYOR come with 2-year warranty.
Unconditional return-You can enjoy a 30-day no question asked return policy after purchasing from our store. Please send us an email at support@voyor.com before returning the product, we will offer you the relevant return information.
 FAQ
Q: How to use this back massager for back pain? How long should I use each time?
A: Please read the manual before use, then plugged in the massager & one button to turn on. You can test the strength on your arm first. Release muscle pressure by 3D nodes deep kneading. With 15-minute intelligent turn-off to ensure use it safely.
Q: I work at home and in the office, is there anyway I can attach the massager to my chair?
A: Sure! This massager has adjustable shoulder straps on the back, wrap the strap around the back of the chair, then you can enjoy a hands-free massage at work or relax during a long drive.
Q: Will it massage all parts of my body and conform to my skin?
A: Yes. This shiatsu massager with a special W-shaped , ergonomically designed to target each of our tissues, perfectly conforming to the curves of our body, so as to completely release muscle pressure.
Q: Will it hurt my skin when I use a massage pillow?
A: Following the proper instructions, the device will help you relieve tension and fatigue from stress, post-workout muscle soreness, and any physical pain from repetitive physical activity.
Q: I've found the rollers hard and painful in other products. Is this one comfortable?
A: Pain would depend on pressure, I have no problem about it. For those who are not used to using it at the beginning, it is recommended to put a light cotton linen between your body and the massager to reduce skin friction for a better SPA.
Frequently Asked Questions
How long is the product's warranty? The product is broken, can it be replaced?
The warranty for VOYOR products is two years. If you have any questions about the product, please feel free to contact us.
We will do our best to help you solve the problem. Please click here, and be sure to attach the order number so that we can help you better deal with the problem. Thank you.
For detailed refund policy, please click here.

How to return the products? Is there a refund?
We will refund no-asking within 30 days. If there is any dissatisfaction with the product, please contact us in time and we will tell you the address where the product can be returned and related refund matters.
For detailed return policy, please click here.

How long will it take to receive the products after placing the order?
When your order is completed, we will deliver the products for you within 24H, if there are no special circumstances. If there is, we will contact you in advance. We will arrange delivery according to your geographic location, and you will receive the products within 3-7 business days.
For detailed shipping policy, please click here.
About free gift or QR code
If you have received a free gift card or the QR code is invalid, please contact us directly through the contact us page and we will teach you how to get a free gift.
Didn't find your answer?