VOYOR Electric Shaver for Women ES400
Regular price
$34.99
/
Standard shipping charges 5$, including tax
---
If you can't stand the gnashing pain of epilator, the VOYOR 4 in 1 electric hair remover is the perfect choice because it's more comfortable and painless, especially for sensitive skin.
You will be amazed by the extremely versatile women's razor with 4 interchangeable heads.
Three razor heads can meet your whole body shaving needs, especially for the face and bikini. There is also a face brush to meet your cleaning needs.
Powerful yet cost-saving, don't you wanna get one?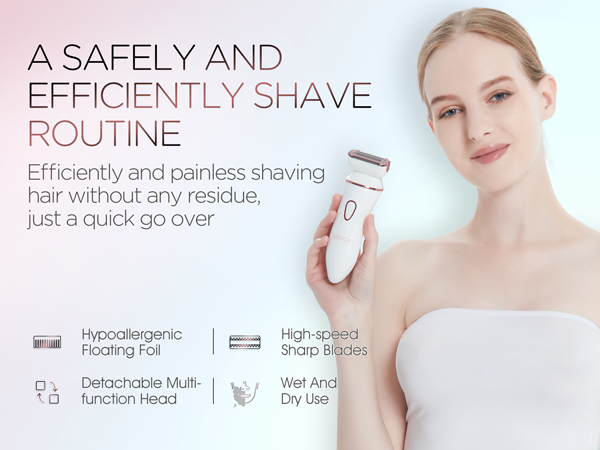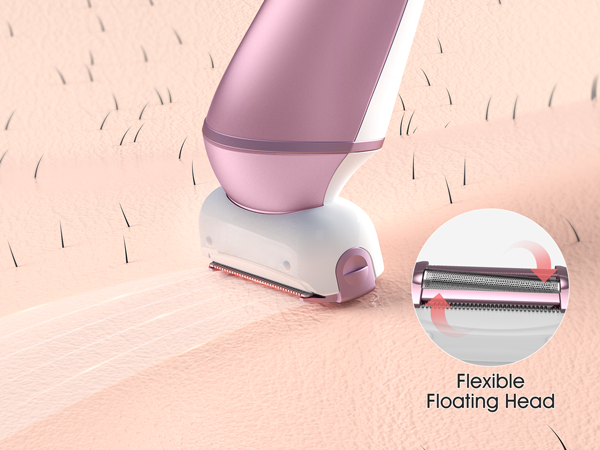 Equipped Powerful Motor
High-speed sharp blade, shaving without residue
0.08 mm precision, 10,000 hairs per minute, for an efficient and precise shave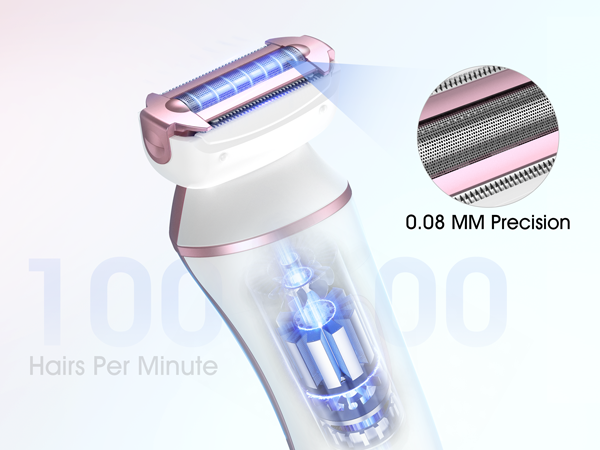 Flexible Floating Head
Hypoallergenic floating Foil get smooth experience
Fit to every inch of skin and slide along the contour naturally to protect your skin from cuts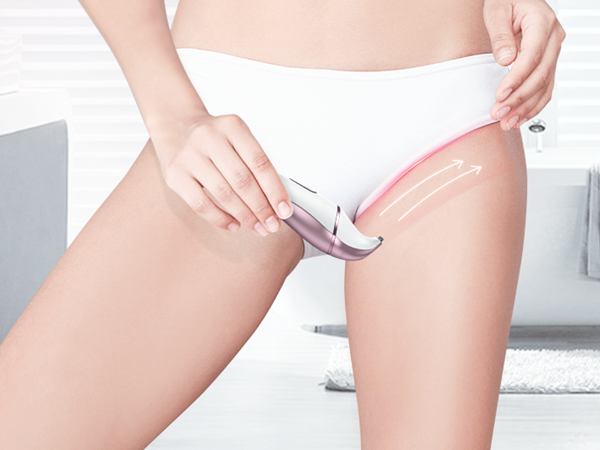 Precision Trimming
Quick touch-ups and shaping your bikini line
Safely and painlessly trim your body parts that are difficult to shave with precision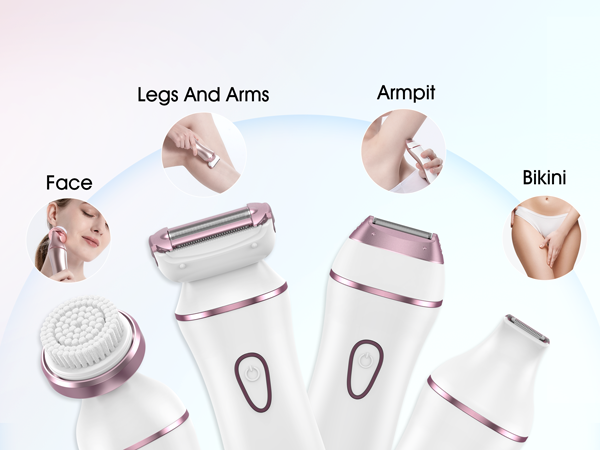 4 Multifunctional Heads
Hair shaving& face care
Versatile hair shaving and face care , enjoy your beauty care at home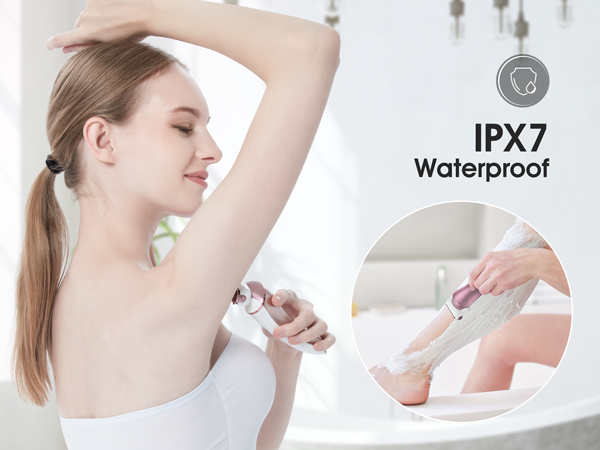 IPX7 Waterproof
Wet and dry, Whole body washable
Enjoy both the efficiency and precision of a dry shave and the gentle comfort of a wet shave
Product details:                   
360° FULL BODY CARE
This electric shaver for women works to deliver 10,000 cuts per minute that can be efficient and remove hair completely and painlessly. It equipped with  3D  floating heads that give you the closest and smoothest shave possible, as well as reducing irritation.
4 IN-1 VERSATILE HEADS
Including a 2-in-1 Shaver blade head for large body area hair shaving; a facial cleansing brush head for deep facial skin cleansing; a precise shaver blade head for facial or small area hair shaving; a precise trimming blade head for trimming your hard-to-shave area like bikini line.
WATERWOOF & USE WET OR DRY
The IPX7 waterproof design allows you to use it wet or dry, giving you the freedom and convenience of shaving in the shower, as well as easily rinsing your razor under the running water.
LONG LASTING & PORTABLE
 You can get up to 70 minutes of shaving time per full charge. This electric shaver comes with a built-in rechargeable battery, no need to replace the battery. And it's universal voltage 110V -240V which is great for traveling.
ERGONOMIC BODY & BLADE DESIGN
The curving handle is very comfortable for you to grip. 3D floating blades are also designed based on ergonomics, which enables the razor easy to adjust to the body's natural curve and remove hair in one go.

2 Charging Modes
USB charging or standing charging base, supports continuous shaving for 70 minutes when fully charged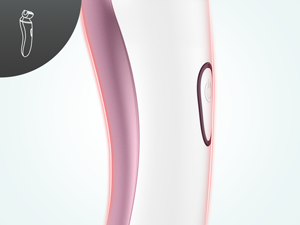 Ergonomic Design
The ergonomic S-shaped handle is easy to steer, comfortable grip, bringing you a relaxing shaving experience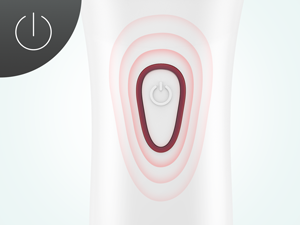 One-button Power-on
One-button power-on, easy to operate, even the elderly can easily operate
Specifications:
Product name:VOYOR 4-IN-1 ELECTRIC SHAVER SET
Model:ES400
Material:ABS
Working voltage:3.7V
Working power:5W
Battery capacity:700 mAh
Product size:16.2 * 4 * 5.2 cm
Product weight:130 g
Charging time:2.5 h
Package Content:
1 x VOYOR ES400 electric shaver
1 x 2-In-1shaver blade head
1 x Precise shaver blade head
1 x Precisetrimming blade head
1 x Facial cleansing brush head
1 x Protective comb attachment for 2-in-1shaver blade head
1 x Protective cap for precise shaver blade head
1 x Cleansing brush
1 x Charging standing base
1 x USB charging cord (USB charger not included)
1 x User manual
 Attachments Features - Display The Functional Device
Multiple for a cleaner shave,suitable for large areas,such as underarms and leg

Using sonic technology,deep cleaning facial oil and other parts of your body

Precisely shave hairs shorter than 5mm in length

 

Precise trimming of body parts that are difficult to trimmer, such as the bikini line
TIPS TO GROOMING THE WHOLE BODY PROPERLY
Enjoy shaving to bring you smooth skin experience
Easy to shave and trim as you like while avoiding pulling, tugging and razor burn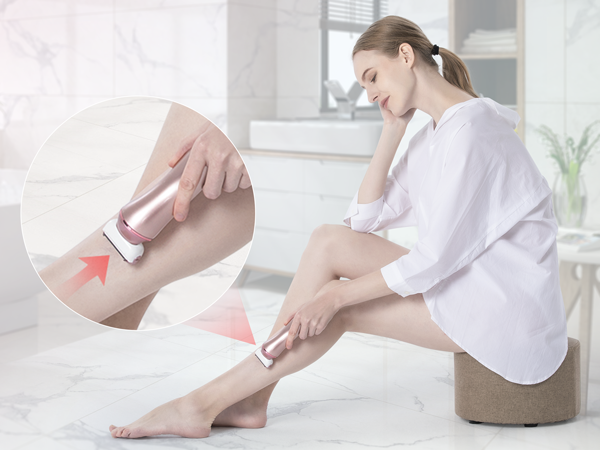 How to use the 3-in-1 shaving head?
1.Maintains 60° with the trimming side,Move it slowly against the direction of hair growth for trim long hairs
2.Maintains 90° with the middle foil side,forth and back for a close shave on fine hairs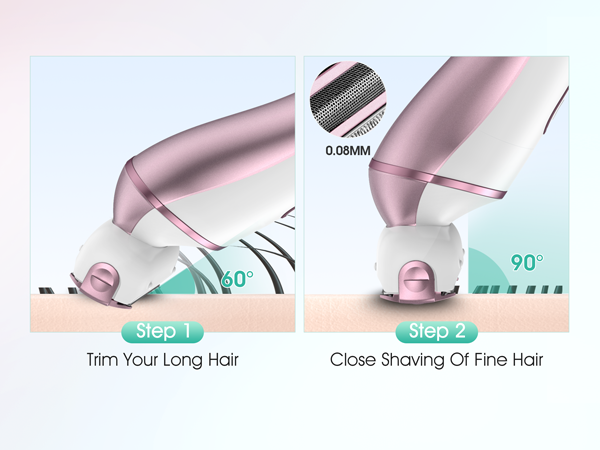 How to use the precise shaving head?
1.Always trim before shaving,ensure hairs shorter than 5mm in length
2.Maintains 90° with foil surface, move back and forth to shave fine hairs closely, helping you shave more precisely in small areas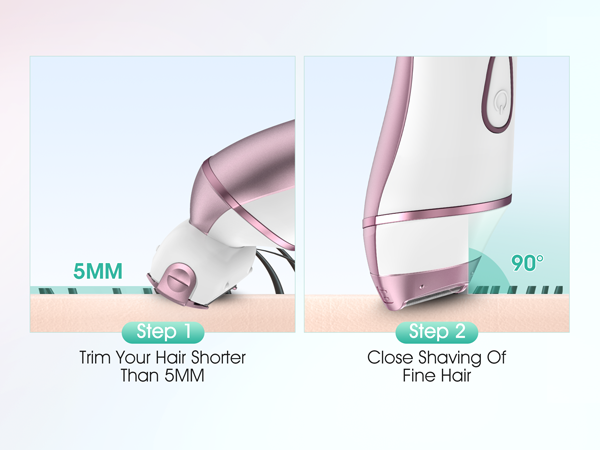 How to use the precise trimming head?
1. Before your shave, soften hair and skin.
2.Touch the bikini trimmer lightly to the skin. Move the trimmer against the direction of hair growth.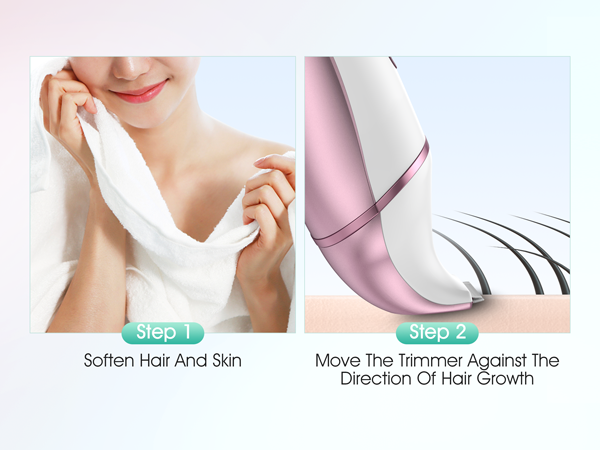 Warm Tips!
1.Never turn on the product while charging.
2.In order to maintain blade performance, avoid soaking the body for a long time, after use keep it clean and dry.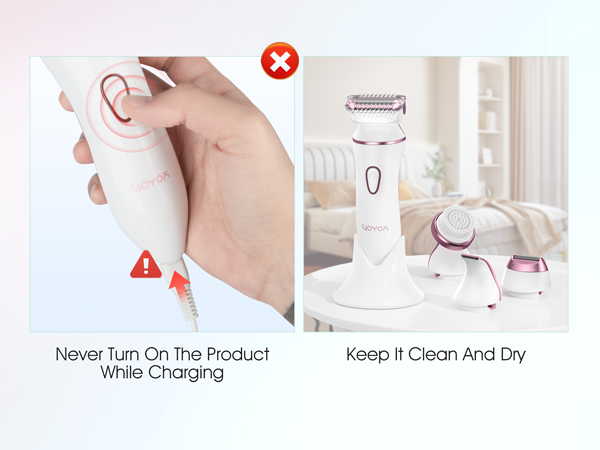 OUR GUARANTEE
Product Warranty-All products purchased from VOYOR come with 2 years warranty.
Unconditional return-You can enjoy a 30-day no question asked return policy after purchasing from our store. Please send us an email at support@voyor.com before returning the product, we will offer you the relevant return information.
FAQ
Q: How do I remove the shaving head that came on shaver.(to change to another head)?
A: Hi, when you replace the product with a replacement head, please press the head and gently pull upward, so that you can remove the head, and then press the other head against the shaft to install, very easy and convenient.
Q: Is this good for shaving down there?
A: Yes, gently press the foil blade of the shaving head to shave against your hair growth direction. Please do not shave back and forth on the same point. Please shave left to right/back and forth (not up and down) with the foil closely on the skin.
Q: Will this pull long hair?
A: Hi, it won't pull, but we recommend that you have to trim it with trimmer or scissors first for a easy shaving.
Q: How long does the razor head last?
A: As long as we keep it clean and dry after every shaving, it would last for a very long time. We promise solve for any quality problems, If you have any questions You can always let us know.
Frequently Asked Questions
How long is the product's warranty? The product is broken, can it be replaced?
The warranty for VOYOR products is two years. If you have any questions about the product, please feel free to contact us.
We will do our best to help you solve the problem. Please click here, and be sure to attach the order number so that we can help you better deal with the problem. Thank you.
For detailed refund policy, please click here.

How to return the products? Is there a refund?
We will refund no-asking within 30 days. If there is any dissatisfaction with the product, please contact us in time and we will tell you the address where the product can be returned and related refund matters.
For detailed return policy, please click here.

How long will it take to receive the products after placing the order?
When your order is completed, we will deliver the products for you within 24H, if there are no special circumstances. If there is, we will contact you in advance. We will arrange delivery according to your geographic location, and you will receive the products within 3-7 business days.
For detailed shipping policy, please click here.
About free gift or QR code
If you have received a free gift card or the QR code is invalid, please contact us directly through the contact us page and we will teach you how to get a free gift.
Didn't find your answer?