VOYOR blackhead remover-pore vacuum cleanser BR410
Regular price
$24.99
/
Standard shipping charges 5$, including tax
---
Just imagine, if there is a device that can effectively extract out oil, impurities, grease, and dead skin which can solve the blackhead, whitehead, and acne problem, it's awesome, isn't it?
Here it is, the VOYOR 6 in 1 blackhead remover, which customizes your skin care regimen for blackhead and grease removing, pore cleansing, exfoliating, and skin rejuvenation functions. By using it, your skin will obviously improve after 2 - 5 weeks.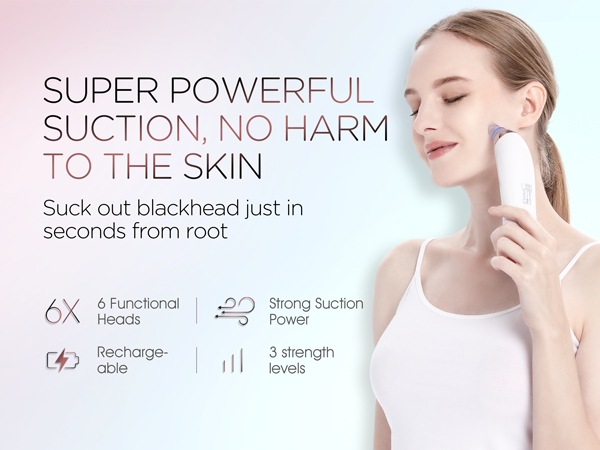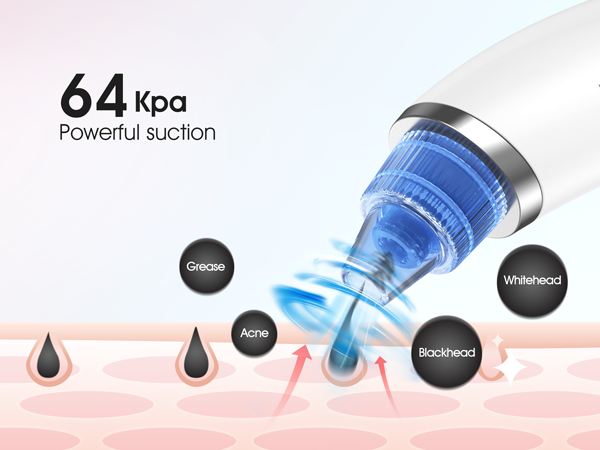 Powerful Suction
Effectively remove stubborn blackheads
64Kpa suction - effectively remove stubborn blackheads, acne, solving your skin problems quickly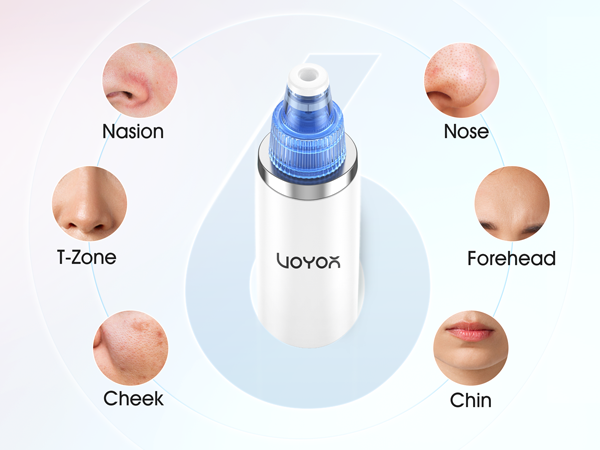 6 Multi-functional Heads
Professional skincare for face, nose, chin
Different shapes of the head achieve a 360°deep cleaning of all parts of the skin without dead Angle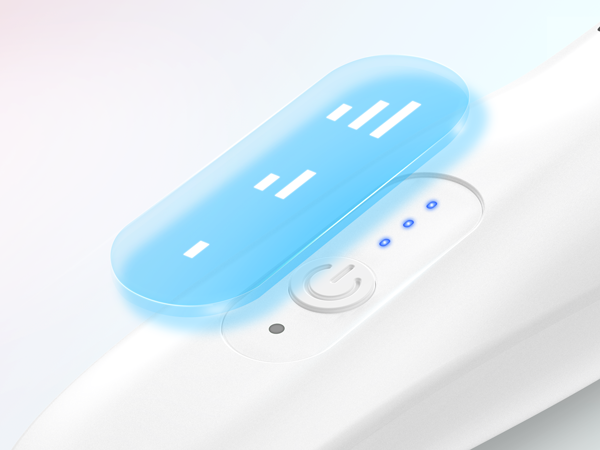 Adjustable Strength Level
One-button to switch appropriate suction
Free to adjust the 3 suction level for different skin types to protect the delicate skin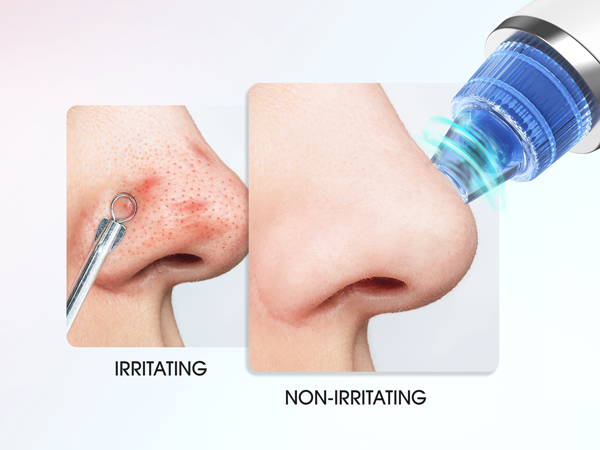 Safe in Daily Skincare
Physical cleansing & quality ABS materials
Using innovative physical vacuum adsorption and air pump technology to remove dirt on the face
PRODUCT DETAILS:     
Powerful Suction
The powerful suction of blackhead remover vacuum can effectively extract out oily buildup, impurities, pimple popper and grease, which can solve the blackhead, whitehead, and acne problem from root. Bring you glowing and smooth skin.
3 Adjustable Strength Levels
Level 1 can be used for sensitive and dry skin, level 2 for neutral skin, level 3 can be used for mixed and oily skin.
6 Functional Heads Included
Different shapes of heads is designed for use in different areas of our face; different size of suction head can be freely selected according to your needs also come with a silicone head for sensitive skin. These humanized designs make this blackhead vacuum suitable for all skin type.
Easy To Use & Clean
One button switch makes it simple for you to operate. After used pore cleaner, just take down the suction head and rinse it to clean. As a great functional blackhead extractor kit and acne tool, this facial tool is safe to use on your face, please follow the steps to ensure accurate and fast cleansing your skin out without damaging.

Deep Cleansing
Open and clean the clogged pores, get rid of the blackheads, comedones from the roots, make your skin refreshing and radiant 


Minimize Pores
As a weekly skincare routine tool, can thoroughly extract out grease & impurities, weaken the pores to leave the skin soft and smooth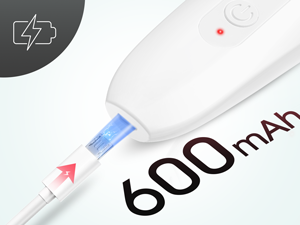 Rechargeable & Portable

This pore cleaner is built-in 600mah rechargeable Li-ion of battery capacity for long-lasting, lightweight and convenient for travel and business 
Specifications:
Product name :VOYOR 6-IN-1 BLACKHEAD REMOVER
Material:ABS
Working voltage:5 V
Working power :4 W
Battery capacity :600mAh
Product size:19*4.3*4.2 cm
Product weight:130 g
Charging time:5 h

Package Content:
1 x VOYOR BR410 blackhead remover
1 x Large circular hole head
1 x Small circular hole head
1 x Microcrystalline hole head
1 x Oval hole head
1 x Silicone head
1 x Curved hole head
6 x Filter sponges
1 x USB charging cable(USB charger not included)
1 x User manual
 How to choose the suitable probe to meet your individual needs of skin care
| | | |
| --- | --- | --- |
| | | |
| For weak & gentle suction, can work on fragile or sensitive skin | For gentle suction, suitable for using on your sensitive skin or beginners | For lessen your wrinkle and smooth your fine lines |
| | | |
| For super suction with a special arc angle, that fits the face | For dead skin exfoliation, can brighten and tender your skin | For strong suction, can remove blackhead, pimple, grease etc. |
The way to extract blackheads faster & precisely:
Step 1: Clean your face
Step 2: Use a hot towel or facial steamer to open your pores
Step 3: Select a appropriate suction tip according to your skin needs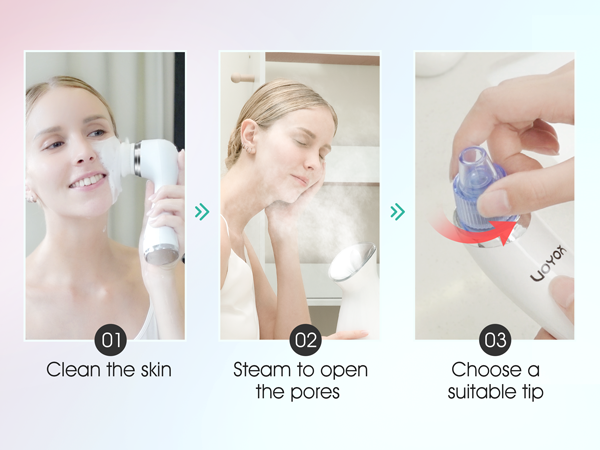 Do the following for better effects:
Step 1: You can suck out the blackheads effectively by following above
Step 2: Then use a facial mask or cold water to shrink pores and calm the skin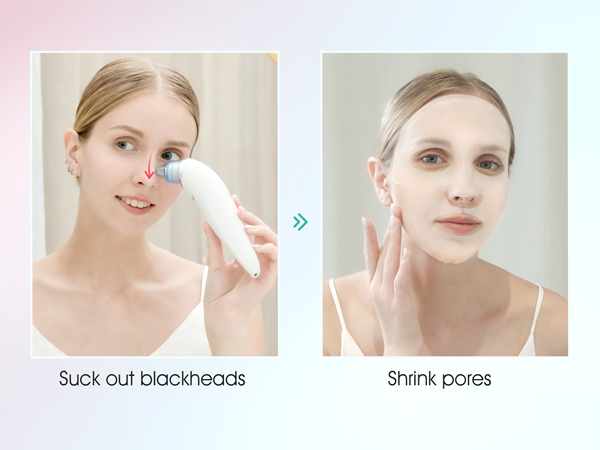 Use tips:
Please move the probe slowly and horizontally in one direction on your face. Don't suck on the same place for more than 2 seconds to prevent from red and purple skin.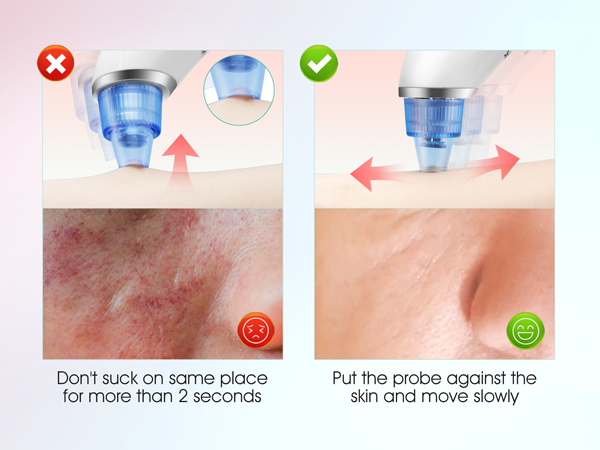 Proper cleaning method:
Wipe the sucked grease and dirt directly with a cotton swab after use, and please do not wash the fuselage with water to avoid damage caused by water ingress inside.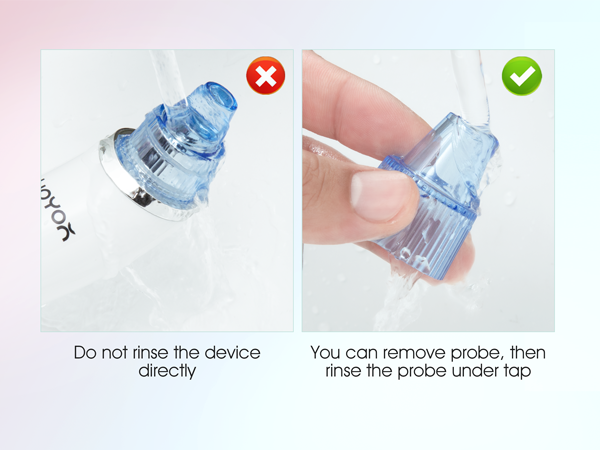 About the powerful suction:
The suction of VOYOR blackhead remover can help you thoroughly & effectively remove the blackhead, show up your beauty and confidence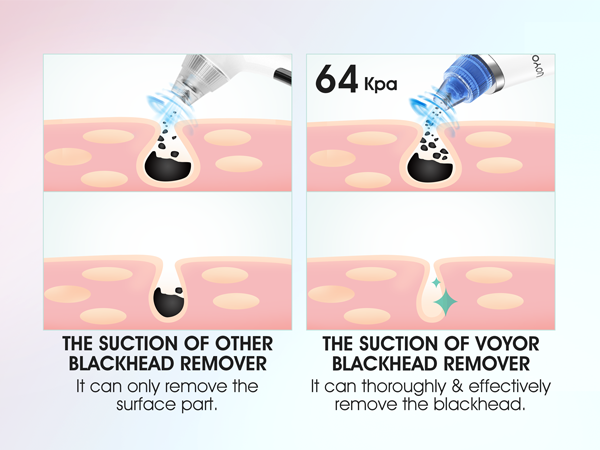 OUR GUARANTEE
Product Warranty-All products purchased from VOYOR come with 2-year warranty.
Unconditional return-You can enjoy a 30-day no question asked return policy after purchasing from our store. Please send us an email at support@voyor.com before returning the product, we will offer you the relevant return information.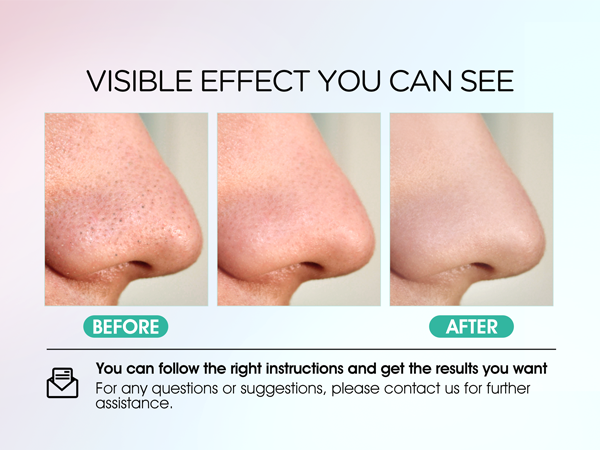 Q: How to prevent from red and purple skin?
A: Please follow the directions properly below: Test the suction on your wrist before use. Start with light suction and move the tip horizontally in one direction instead of pulling it up & down. Don't to suck on the same spot over 2 seconds each time
Q: How can I remove blackheads quickly and effectively at home?
A: The pores are in a closed state normally. It's better to use a hot towel/facial steamer for 8 minutes to open the pores completely firstly, then select a suitable probe & suction to operate. Finally, use toner/mask to shrink pores and calm the skin.
Q: How often should I use it?
A: As a daily regular skincare, it is recommended to use 1-2 times a week for normal, oily and combination skin, once a week for dry skin.
As for sensitive/fragile skin, you can use a silicone tip once a week according to the skin condition.
Q: How to solve it after leaving bruises on the skin?
A: It is normal for this situation at first use. Firstly, you can apply ice to relieve pain and swelling. Then hot compress to remove blood stasis. It will disappear about 3 days usually. And it will not happen again after being good at the operation.
Q: The product has 3 levels of adjustable suction power. How do I choose a suction power that suits me?
A: If you have sensitive skin, you can choose low level and soft silicone head, this combination is suitable for delicate skin. And highest level of this product can reach 64kpa, and you can choose mid-range and high-grade to remove stubborn blackheads.
Frequently Asked Questions
How long is the product's warranty? The product is broken, can it be replaced?
The warranty for VOYOR products is two years. If you have any questions about the product, please feel free to contact us.
We will do our best to help you solve the problem. Please click here, and be sure to attach the order number so that we can help you better deal with the problem. Thank you.
For detailed refund policy, please click here.

How to return the products? Is there a refund?
We will refund no-asking within 30 days. If there is any dissatisfaction with the product, please contact us in time and we will tell you the address where the product can be returned and related refund matters.
For detailed return policy, please click here.

How long will it take to receive the products after placing the order?
When your order is completed, we will deliver the products for you within 24H, if there are no special circumstances. If there is, we will contact you in advance. We will arrange delivery according to your geographic location, and you will receive the products within 3-7 business days.
For detailed shipping policy, please click here.
About free gift or QR code
If you have received a free gift card or the QR code is invalid, please contact us directly through the contact us page and we will teach you how to get a free gift.
Didn't find your answer?