VOYOR Slimming & Cellulite Massager VRMM1
Regular price
$65.99
Sale price
$54.99
/
Standard shipping charges 5$, including tax
---
Small yet powerful. The VOYOR cordless deep tissue slimming massager is effective for reducing cellulite and localized fat on all body areas, especially on the face. It comes with 3 replaceable heads which can not only clean the face and body with brush heads, but also massage the whole body to relieve fatigue with the massage head. More importantly, using it frequently to massage can rejuvenate the skin, help promote blood circulation and metabolism, and fat burning.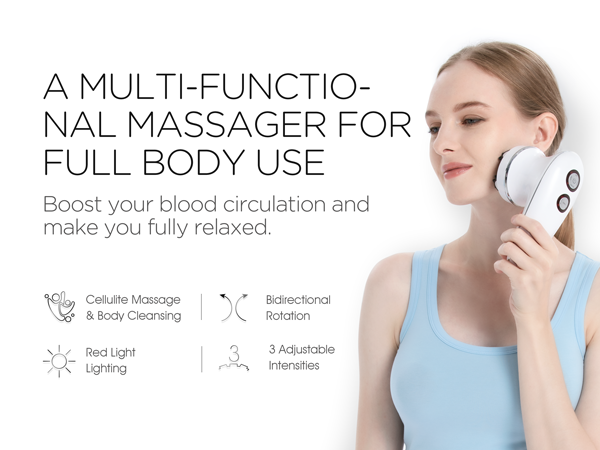 Relieve muscles pain
Effectively take away exhaustion
Powerful deep tissue massage effectively promote your blood circulation and relieve pain.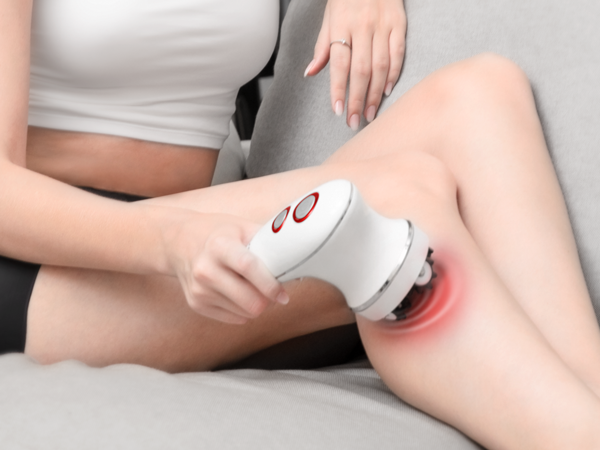 Remove cellulite
Distribute fat deposits
Cellulite massager roller help eliminate fat and remove dirt from body for smoother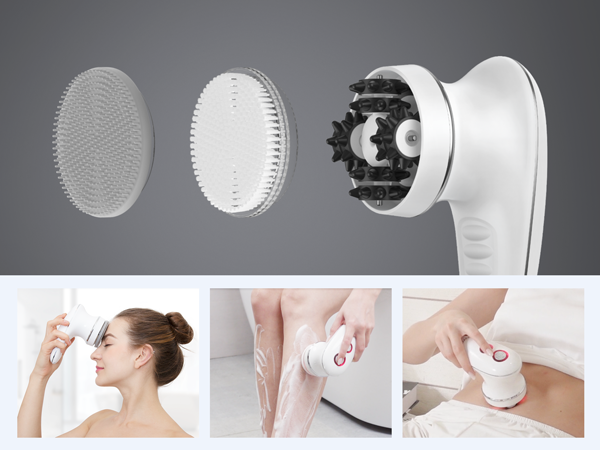 Multipurpose use
Satisfy your massage & cleansing needs
3 Multifunctional heads start your face/body massage & washing to free your hands thoroughly. skin.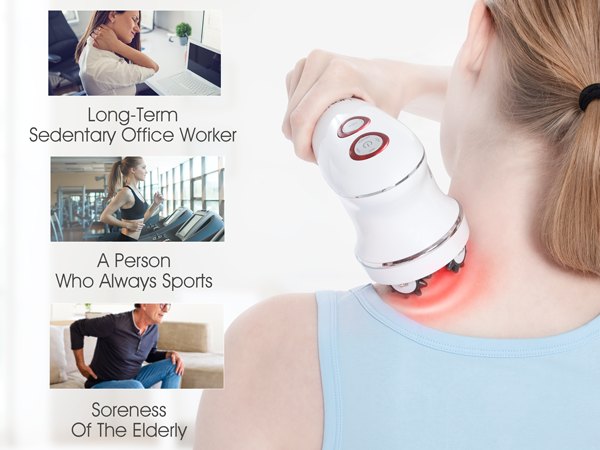 Best companion for you
Indispensable daily relaxation tool
For sedentary crowd, repetitive exercisers, senile soreness, etc, effectively reduce muscle pain.
Product details:     
3 STRENGTH LEVELS & 2 MASSAGE DIRECTIONS
This back massager has 3 adjustable speed levels (LOW, MID & HIGH) and 2 rotation direction switches (clockwise & anti-clockwise) to satisfy your different needs.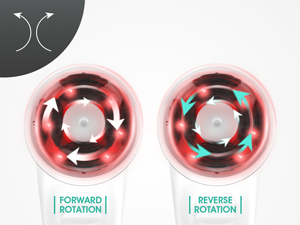 Adjustable speeds & rotation
Equipped with 3 adjustable speed levels and 2 reverse rotation directions to satisfy your different needs.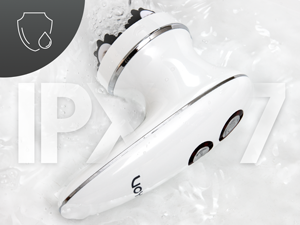 IPX7 waterproof design
This electric massager is IPX7 waterproof, so you can use it in the shower with confidence after a tired day.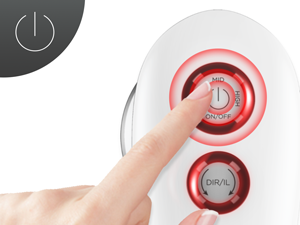 One-button start
Easy to grip the handle and turn on with your thumb, enjoy a pleasant massage experience at home in safety .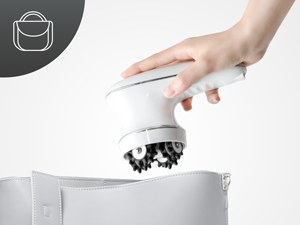 Cordless & portable
Lightweight and compact to stow on the go, suitable for travel, office, you can enjoy a SPA anytime, anywhere.
Specifications:
Product name:VOYOR Multi-functional Electric Massager
Model:VRMM1
Material:ABS
Working voltage:7.4V
Working power:11W
Battery capacity:1000mAh
Product size:17x11.5x8 cm
Product weight:378 g
Charging time:3 h
Package Content:
1 x VOYOR multi-functional massager
3 x Replacement heads
1 x USB charging cable (USB charger not included)
1 x User manual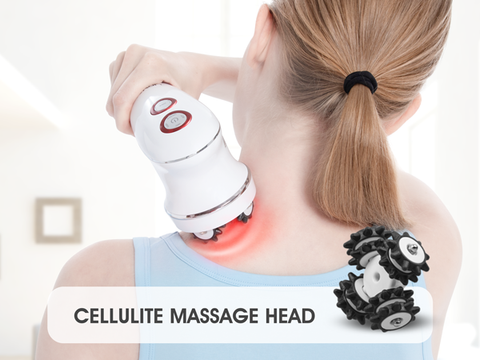 Accelerate fat metabolism, also help lotions or essential oils penetrate deep into your skin and promote blood circulation to release your muscle tension & ache.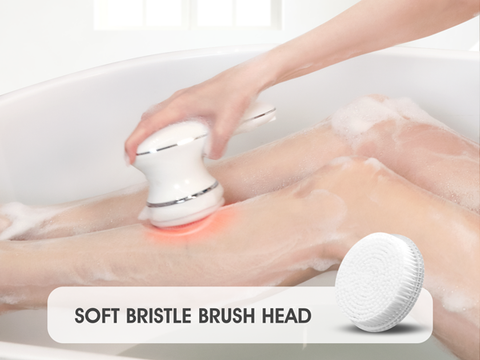 Suitable for deep cleansing of the face and body, can effectively remove oil or cosmetic residues, and bring you a soft and relaxing skin cleansing experience.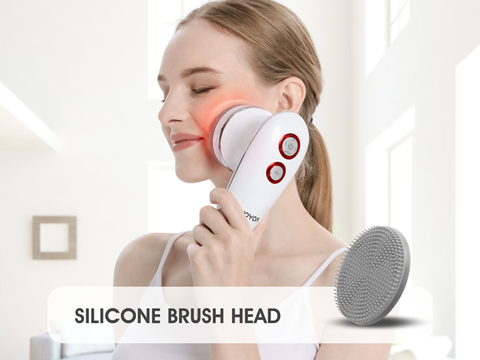 Suitable for skin cleansing of the face and body, it can gently and effectively remove stubborn dirt or cuticles on your skin and reduce clogged pores.
How to properly use this massager to achieve your full-body relaxation?
Warm tips:
The device CANNOT be turned on during charging, please REMOVE the charging cable before turning it on.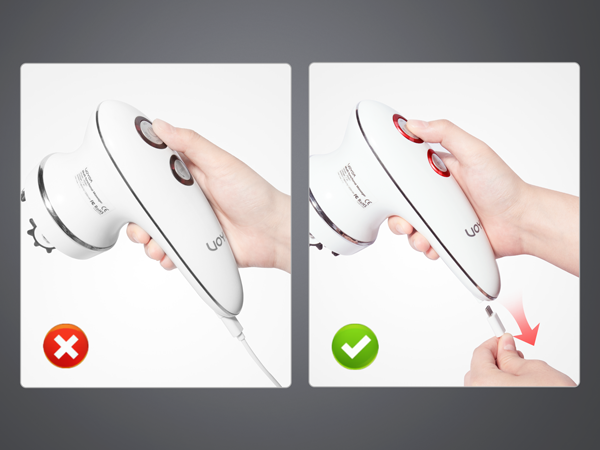 Before starting the massage:
Adjust the rotation speed with the upper button to your most comfortable level.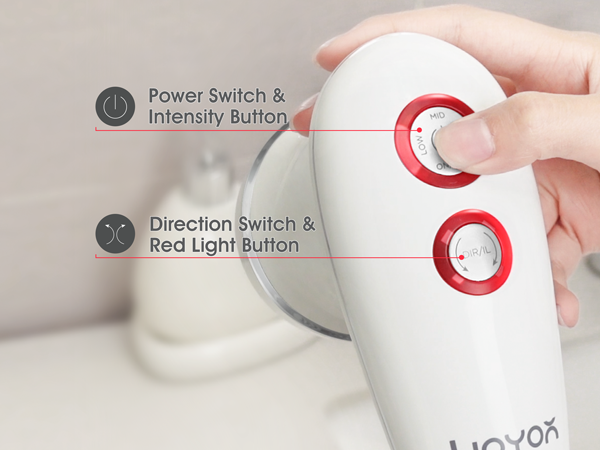 Make the effect obvious while using:
You can also lather up body with lotion, cleanser or oil for better performance.
Enjoy a soothing massage experience:
Sticking to using it properly after a daily fatigue will make you feel energetic.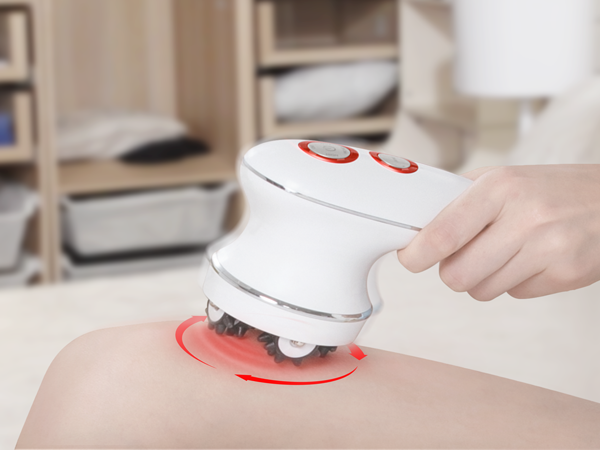 Usages of wide range:
This L-shaped massager easily operates to target any point of your body for neck, arms, belly, legs, etc. Good for full body health care.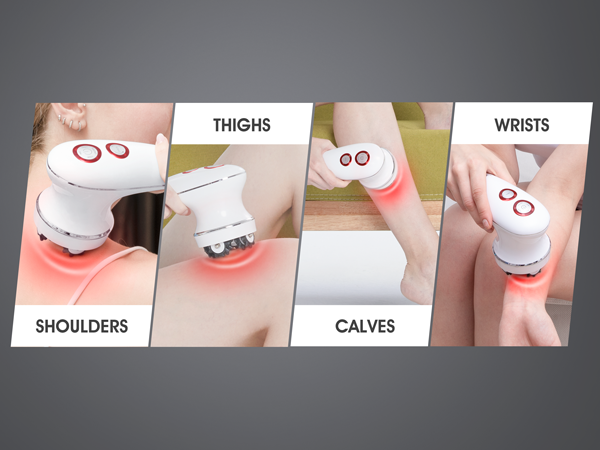 OUR GUARANTEE
Product Warranty-All products purchased from VOYOR come with 2-year warranty.
Unconditional return-You can enjoy a 30-day no question asked return policy after purchasing from our store. Please send us an email at support@voyor.com before returning the product, we will offer you the relevant return information.
 FAQ
Q: How strong is this handheld massager? Will it leave bruise after using it?
A: Unlike normal AA battery, it is powered by lithium batteries, which are very powerful when fully charged. It also has 3 speed levels to set your most comfortable level. Start with the lowest level and don't stay on the same place over 2 minutes.
Q: How to know if the device is charging and fully charged? and how long does it last when fully charged?
A: The indicator light will flash when charging, and will stay on when fully charged. The battery capacity is 2600mah, which can generally be used for 3-4 hours. Actual time depends on the location used.
Q: Can I turn on the machine to use while charging?
A: Our products are designed with professional safety protection, to make it more durable, please do not turn it on when charging, and unplug the USB charging cable before turning it on to use.
Q: Can I use it in the shower?
A: It has IPX7 waterproof rating, so you can use it in the shower with confidence.
Q: Can I take it with me when traveling? how much does it weigh?
A: It's total weight of less than 500g, and can be carried perfectly on a trip/business in your own bag, very lightweight and portable.
Frequently Asked Questions
How long is the product's warranty? The product is broken, can it be replaced?
The warranty for VOYOR products is two years. If you have any questions about the product, please feel free to contact us.
We will do our best to help you solve the problem. Please click here, and be sure to attach the order number so that we can help you better deal with the problem. Thank you.
For detailed refund policy, please click here.

How to return the products? Is there a refund?
We will refund no-asking within 30 days. If there is any dissatisfaction with the product, please contact us in time and we will tell you the address where the product can be returned and related refund matters.
For detailed return policy, please click here.

How long will it take to receive the products after placing the order?
When your order is completed, we will deliver the products for you within 24H, if there are no special circumstances. If there is, we will contact you in advance. We will arrange delivery according to your geographic location, and you will receive the products within 3-7 business days.
For detailed shipping policy, please click here.
About free gift or QR code
If you have received a free gift card or the QR code is invalid, please contact us directly through the contact us page and we will teach you how to get a free gift.
Didn't find your answer?