VOYOR 4-In-1 Electric Body Brush BC100 - Replacement Heads
Regular price
$16.99
/
Standard shipping charges 5$, including tax
---
VOYOR 4-In-1 Electric Body Brush BC100 - Replacement Heads
If you want a clean and comfortable bath experience, we recommend this VOYOR Electric Body Brush. With powerful and fast spin brush head, it effectively exfoliates your whole body and removes oil and dirt. Auto-rotate for easy cleaning of all parts of the whole body without the need for force, which is less labor-intensive than traditional bath brushes.
Just start your body cleansing with a single click, and the 2-level intensity adjustment let you choose the appropriate level for your skin's sensitivity or needs.
It is suitable for all skin types, helps to deeply cleanse and care skin pores. Leaves your skin soft and rejuvenated after daily use.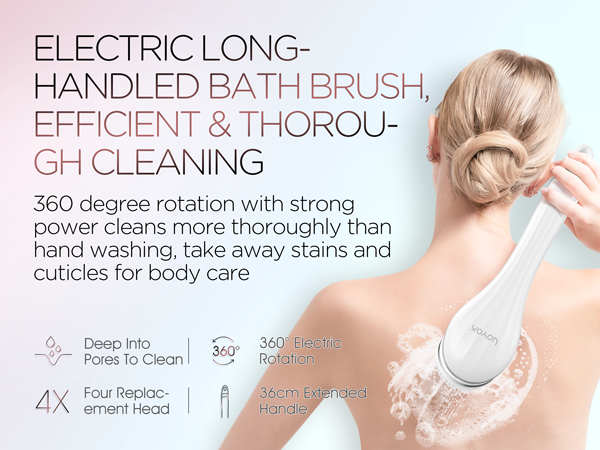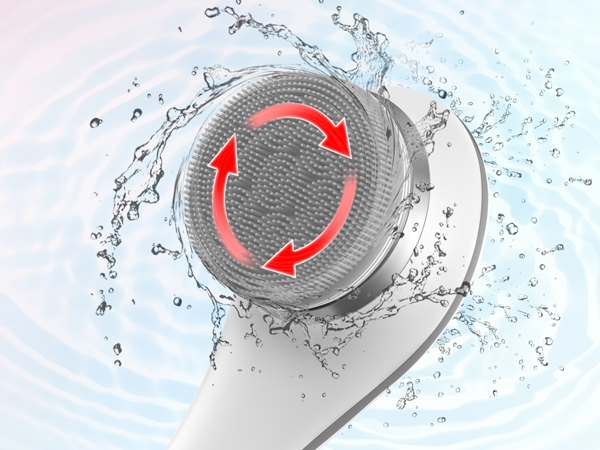 Deep Body Cleansing
360° Efficient rotation removes dirt, oil, cutin
Multifunctional bath brush can clean pores and solve the oil problem to better repair back acne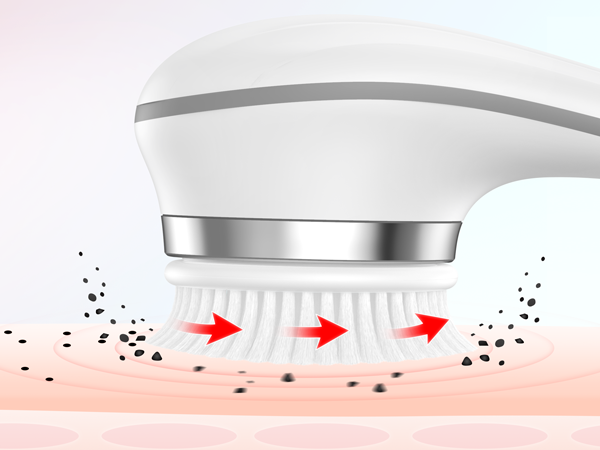 Strong Electric Power
2 Levels of cleaning intensity can be adjusted
Press it against the skin and it will still turn, even when the low speed cleaning is selected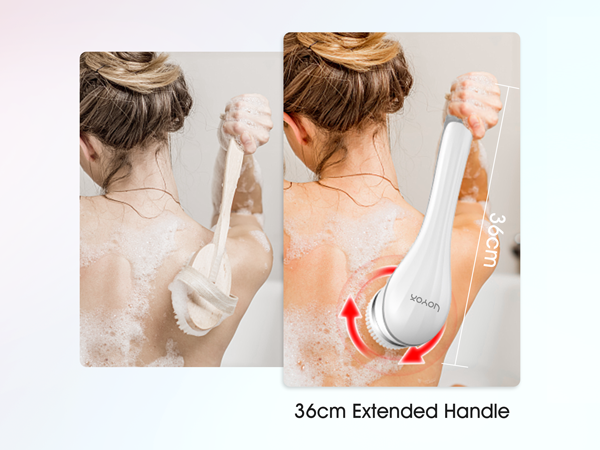 36cm Extended Handle
Easy to reach the whole body
Sturdy long handle cleans back evenly without missing any part. Enjoy scrub with silicone head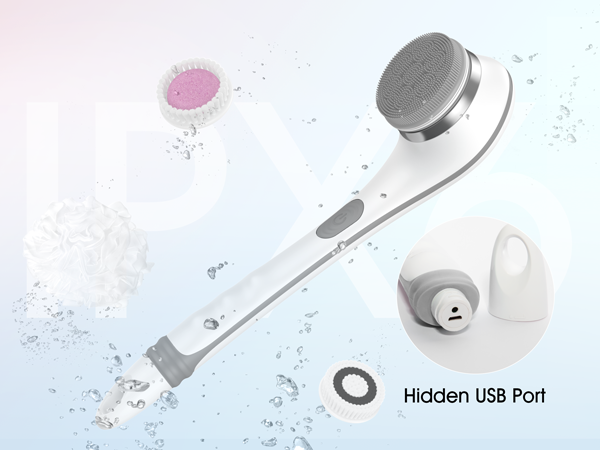 Premium Water Resistance
Powerful waterproof enjoy bath spa without worries
Hidden USB port & full-body rubber silicone wrap enhances water resistance for longer product life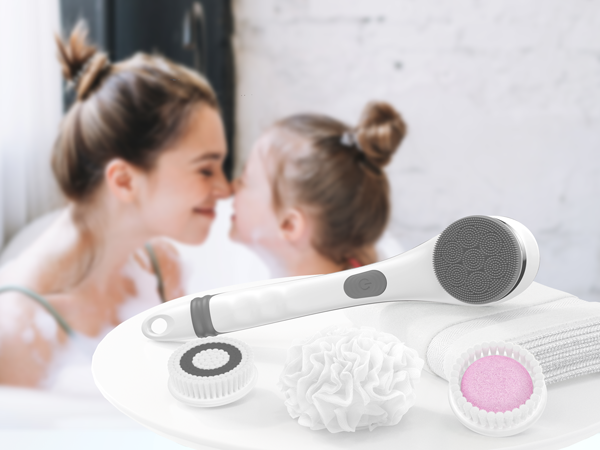 Multifunctional Bath Head
4 Brush heads meet your bathing needs
Body brush set to exfoliate, shed dead skin, eliminate clogged pore and improve blood circulation 
Product details:          
360 degree rotating cleaning
With powerful and fast spin brush head, it effectively exfoliates your whole body and removes oil and dirt. Suitable for all skin types, helps to deeply cleanse and care skin pores. Leaving your skin fresh all day long!
Electric body brush
Auto-rotate for easy cleansing of all parts of the whole body without the need for force, which is less labor-intensive than traditional bath brushes. Rechargeable design, built-in large-capacity rechargeable battery, and it only takes two hours to fully charge.
IPX6 waterproof design
The machine uses rubberized silicone to ensure waterproof , allows conveniently using in shower. Ergonomically design, easy to grab. The long handle design allows you to easily clean hard-to-reach places. Non-slip design prevents it from falling off.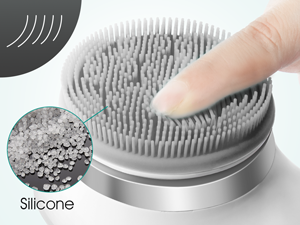 Silicone Massage Brush
Silicone bristle allows you to scrub your body without irritation, soft enough yet tough enough to clean thoroughly.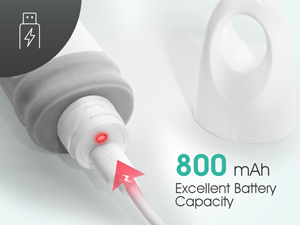 Electric & USB Charging Port
Built-in 800mAh high-capacity rechargeable battery, only takes 1.5 hours to fully charge. A full charge can last up to 20 days.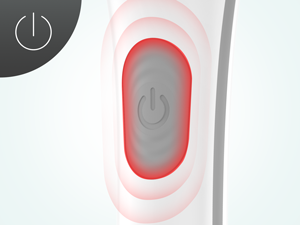 One Key Operation
Press and hold for 3 seconds to turn on/off, one-touch adjustment for gentle cleaning and powerful back scrub.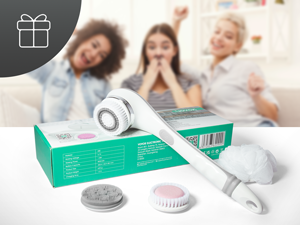 For Whole Family
The back brush suitable for all skin types is perfect as gifts for elderly, yourself, friends and family. Feel lighter and relaxed after bathing.
Specifications:
Product name: VOYOR 4-IN-1 BATH CLEANSING BRUSH
Model: BC100
Material: ABS
Working voltage: 3.7V
Working power: 1.8W
Battery capacity: 800mAh
Product size: 40* 14 * 8 cm
Product weight: 625 g
Charging time: 2 h
Package Content:
1 x VOYOR BC100 Bath Cleansing Brush 

1 x Silicone bath brush head
1 x Soft bristle brush head
1 x Bath ball head
1 x Pumice stone brush head
1 x USB charging cable (USB charger not included)
1 x User manual 
4 replacement heads for your whole body care needs
| | |
| --- | --- |
| | |
| With silicone material, soft and non-irritating, clean skin safely | With soft and slim bristles, it can help you remove excessive oil and acne |
| | |
| Combination of pumice stone and soft bristle, removes dead skin with double effect | Premium quality and fine mesh create a large amount of dense lather |
CHOOSE A SUITABLE HEAD TO MEET DIFFERENT NEEDS
How to cleanse your skin?
You can choose a replacement head, wet your body with warm water and apply lotion to the body. Then press button and choose a suitable mode. Finally, move the brush around body and rinse all bubble.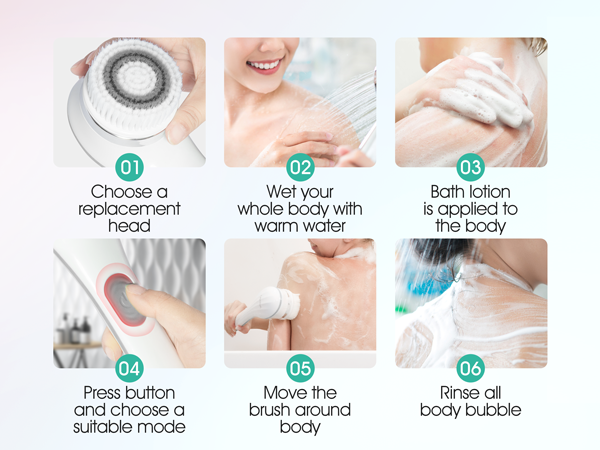 Massage the whole body to relax yourself
Choose a silicone brush and deep cleansing level to scrub your back or other area, which can massage your whole body muscles while cleansing the skin, relieve the fatigue of the day.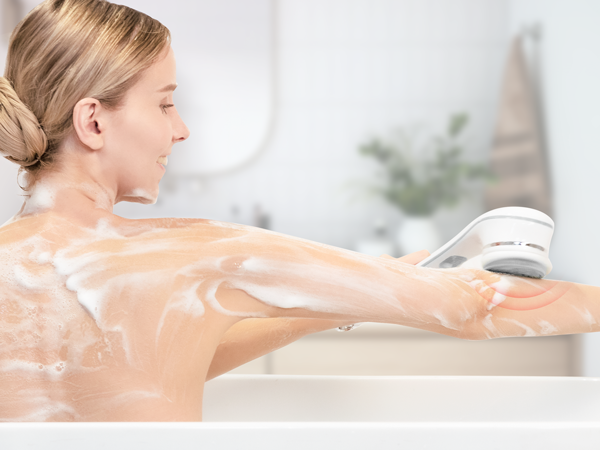 Produces dense foam
Put the shower gel on bath ball to lather and rub the skin gently to create a large amount of lather. It can remove dirt and sweat from skin very well, also make our skin smoother and more delicate.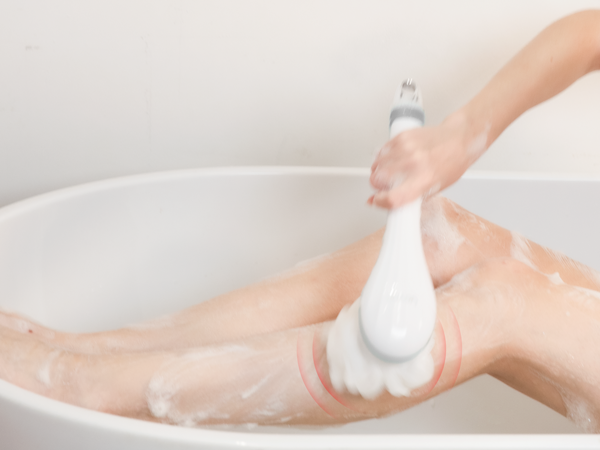 Deep cleansing, no more acne
Using the bristle head in combination with dense foam to get a better cleansing result with pores. Meanwhile, shower brush can stimulate the body's lymphatic system, improve your blood circulation.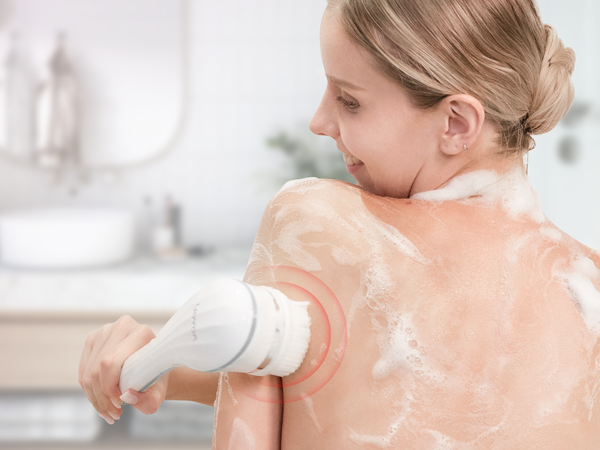 Effective exfoliation
Dead skin on your feet is softened after bathing, apply pumice stone brush head on your feet and move in circles slowly. During the rotation, it will efficiently remove thick cuticle under your foot.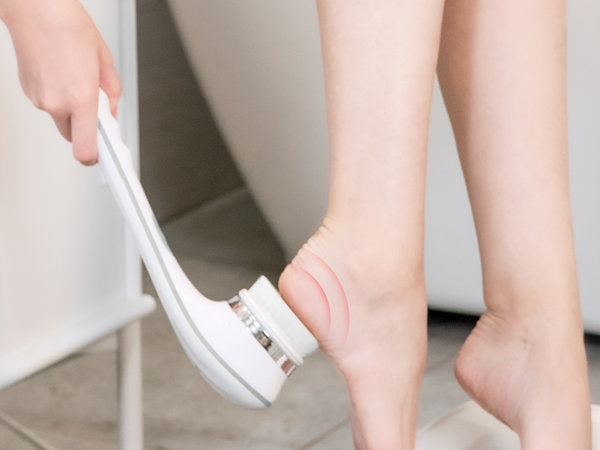 Easy to hang
The hook design particularly saves space and enables the bath brush to be hung on the wall or in a ventilated place to dry after use.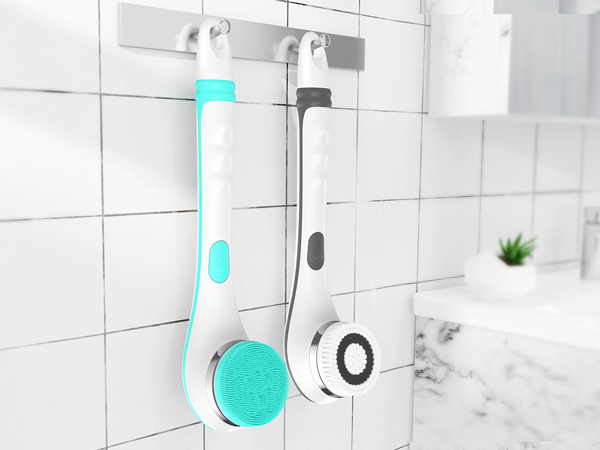 OUR GUARANTEE
Product Warranty - All products purchased from VOYOR come with 2 years warranty.
Unconditional return - You can enjoy a 30-day no question asked return policy after purchasing from our store. Please send us an email at support@voyor.com before returning the product, we will offer you the relevant return information.
 FAQ
Q: Will this electric bath brush do a good job of cleaning my back?
A: This body cleansing brush includes different replacement heads and has powerful motor to achieve 360° deep cleansing. And with a long handle design to cleanse hard-to-reach places, it can help you perfectly clean excessive oil of your back.
Q: This body brush is often exposed to water, so is its waterproof design reliable?
A: Yes. With premium IPX6 waterproof and hidden charging port design, the electric bath brush is complete water resistance, which makes it convenient for using it in shower.
Q: Is the electric body brush powerful enough to clean my body? Will the brush stop spinning when pressing hard?
A: This exfoliating brush is specially designed for body cleansing. It is equipped with a powerful motor, which means that even if you press it hard, the bath brush will not stop spinning. This can help you achieve perfect body cleansing effect.
Q: How does this back scrubber charge?
A: The body scrubber adopts USB hidden charging design, which avoids trouble of replacing the battery. Note that after charging, please ensure that the cover at the charging port has been tightened enough to prevent water from seeing through the gap.
Q: Is the handle of this shower brush non-slip?
A: Yes. The silicone non-slip design on the side and the ergonomic design of the handle makes it easier to grab the back brush while you're in the shower, preventing the shower scrubber from falling off, and enjoy the bath time better.
Frequently Asked Questions
How long is the product's warranty? The product is broken, can it be replaced?
The warranty for VOYOR products is two years. If you have any questions about the product, please feel free to contact us.
We will do our best to help you solve the problem. Please click here, and be sure to attach the order number so that we can help you better deal with the problem. Thank you.
For detailed refund policy, please click here.

How to return the products? Is there a refund?
We will refund no-asking within 30 days. If there is any dissatisfaction with the product, please contact us in time and we will tell you the address where the product can be returned and related refund matters.
For detailed return policy, please click here.

How long will it take to receive the products after placing the order?
When your order is completed, we will deliver the products for you within 24H, if there are no special circumstances. If there is, we will contact you in advance. We will arrange delivery according to your geographic location, and you will receive the products within 3-7 business days.
For detailed shipping policy, please click here.
About free gift or QR code
If you have received a free gift card or the QR code is invalid, please contact us directly through the contact us page and we will teach you how to get a free gift.
Didn't find your answer?