VOYOR Beard Trimmer for Men TX510
Regular price
$36.99
/
Standard shipping charges 5$, including tax
---
You'd better always maintain a delicate appearance and be a confident and attractive man. VOYOR recommends this Beard Trimmer for Men for you.

The product features an R-shaped corner design that makes it easy to precisely edge and finish small details, even when trimming underarms, chest, and other private parts brilliantly. Fully charged in 2 hours and lasts up to 120 minutes on a single charge.

Our trimmer for men is lightweight and portable, and has a long-lasting battery. Must be the best helper for business trips and travel to keep your haircut in style.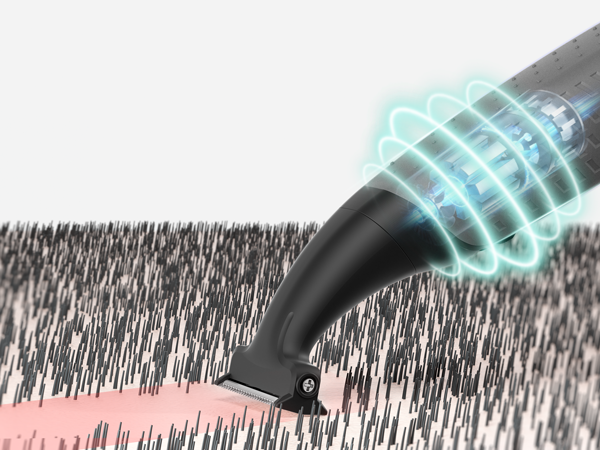 Powerful Motivation
Built-in high-powered high-speed motor
Powered by high-speed motors, speed up to 6000R/min, tames thick, coarse hair easily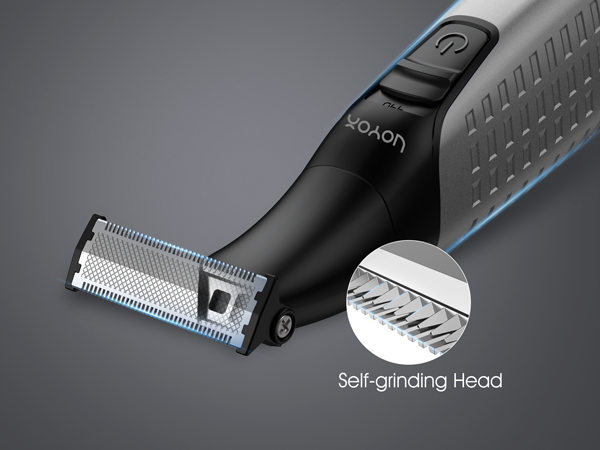 Longer Service Life
Stainless steel self-sharpening blades
The knife network and blade grinding each other to maintain lasting sharpness and durability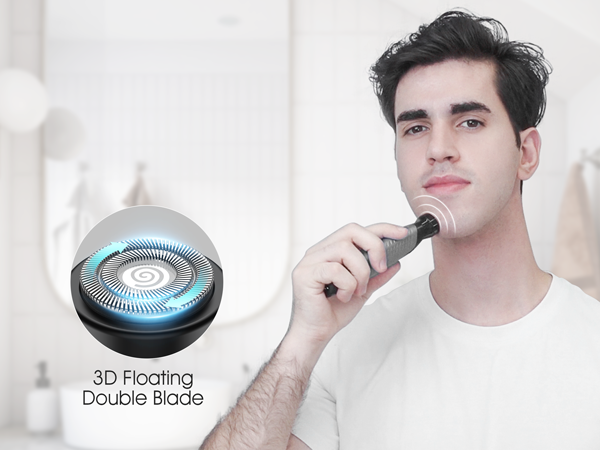 Comfort-cut Blade System
3D floating double blade network shaving head
The round shaving head is mini designed point to move smoothly along curves for a comfortable shave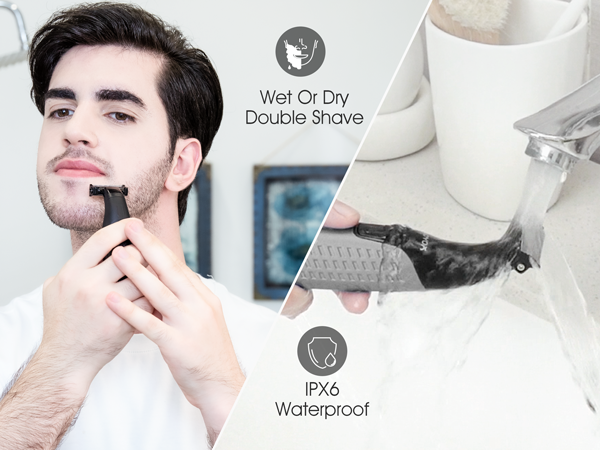 Full Body Waterproof
IPX6 waterproof design, wet and dry
You can shave dry or wet with foam, even in the shower. Easy to clean, just rinse it under the tape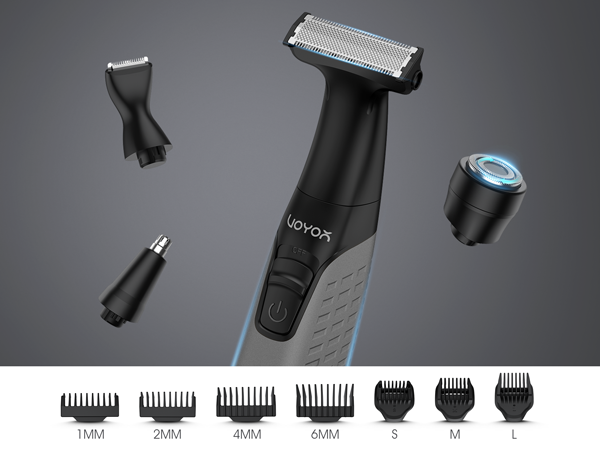 All-In-One
Whole body grooming kit
With 4 multi-functional heads and 7 trimming combs, can trim, edge and shave any length of hair
Product details:          
Precision shaving and ultimate closeness
Beard trimmer has stainless steel Self-Sharpening double-sided blade, ensure the sharpness and durability of the blade. Curved blade serration design angle, which reduces friction on the skin, and have precise gaps to achieve one pass even trimmer.
Multifunctional trimmer kit
This kit comes with 4 accessories: full-size trimmer/precision trimmer/nose trimmer/micro razor. It is also equipped with 7 guide combs (1, 2, 4, 6 mm for full-size trimmers and S, M, L for precision trimmers) to tailor your style more selectively.
IPX6 Waterproof and easy to maintain
Whole body washable design. Whether you want to shave with the shaving bubble or convenient dry shave, it will give you the most comfortable shaving experience. Blades detachable also easy to clean by using the brush incidental.
Ergonomic design and quiet design
The unique and novel handle shape abandon the bulky razor body, make a more comfortable grip feeling. Feature with precision motor, low vibration and ultra quiet design. Only the fast and efficient shaving will accompany you, without the disturbing noise.
Longer runtime
Full charge in 2h, the Lithium-ion rechargeable battery lasts up to 120 minutes from a single charge. Our trimmer for men is lightweight and portable, and with long lasting battery. Must be the best helper for business trips and travel to keep your haircut in style.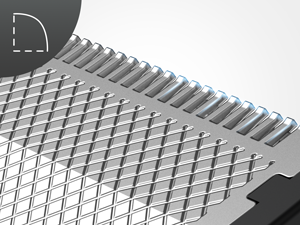 Shape accurate lines
With the R-shaped corner design easy to precisely edge and finish small details, even for trimming underarms, chest, and other private parts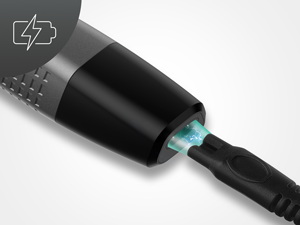 Long battery life
2 hours fast charge, a full charge can last for 120 minutes.Supports charging from laptops, power banks, sockets, etc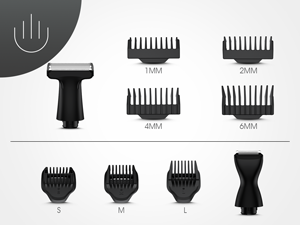 Equipped with 7 trimming combs
Equipped with 7 trimming combs of different lengths, you can freely shaped the hair length. Provides an extra layer of protection for sensitive areas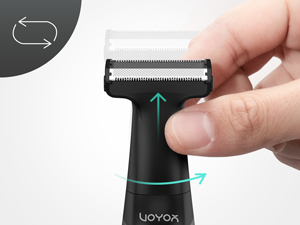 Easy to replace accessories
Align the trimmer head with the snap points and slightly push to install. Rotate the trimmer head to the left to easily separate from the device
Specifications:
Product name: VOYOR 4 IN 1 ELECTRIC TRIMMER
Model: TX510
Material: ABS
Working voltage: 5V
Working power: 5W
Battery capacity: 600mAh
Product size: 17.5*2.9*3.6 cm
Product weight: 110 g
Charging time: 2 h
Package Content:
1 x VOYOR electric trimmer TX510 

1 x Shaver head
1 x Sideburn trimmer head 
1 x Beard trimmer head

1 x 

Nose & Ear trimmer head
1X Cleansing brush
1X USB charging cable (USB charger not included) 
1 x User Manual
EXPLORE MORE FEATURES
Tips for the performance of different trimming heads
For trimming hair on the face, head and body

For trimming hair on the facial, neck and chin, without stubble

 

For trimming hair on the sideburns and finely trimming back, groin or buttocks

For trimming hair on the nose and ears, keep good look

7 trimming combs of different lengths, choose precise stubble and hairs length
To achieve an efficient shave, here you can get the correct head and usage
Beard Trimming Head (Quick Trim)
Flexible trimmer tip that stays 30 degrees to the skin when used, creating clean, neat lines without cuts.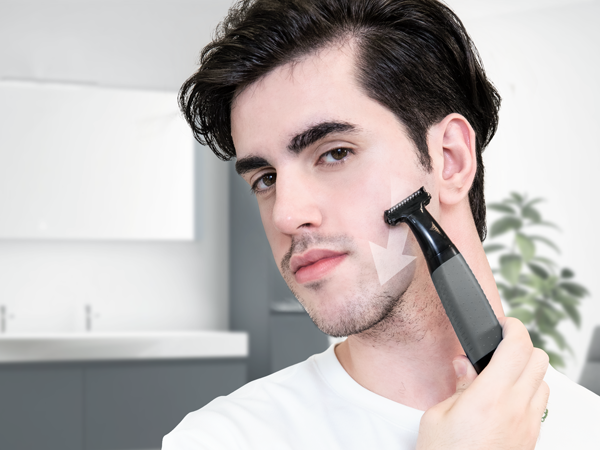 Precise Trimming Head (Detailed Edge)
Parallel to the skin, trimming edges and contours, also in narrow and complex areas.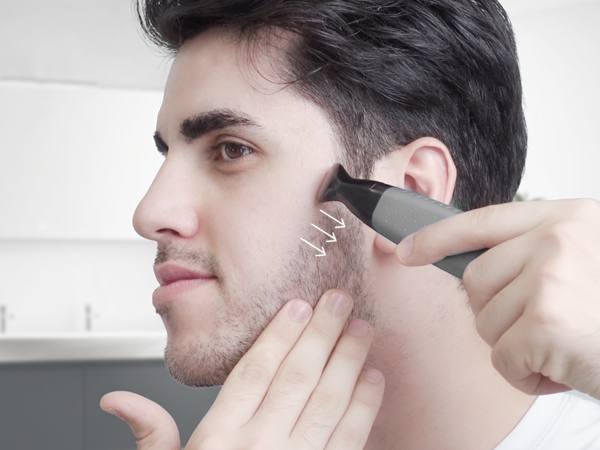 Round Shaving Head (Micro Razor)
Follows the contours of your face for a clean, provide a comfortable, easy shave without stubble.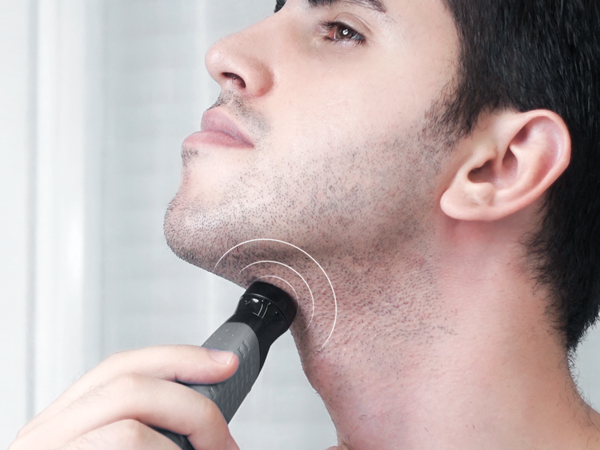 Nose Hair Trimming Head (Nose&Ear Hair Trimming)
Match the contours of the nose and ears for a precise hair trim.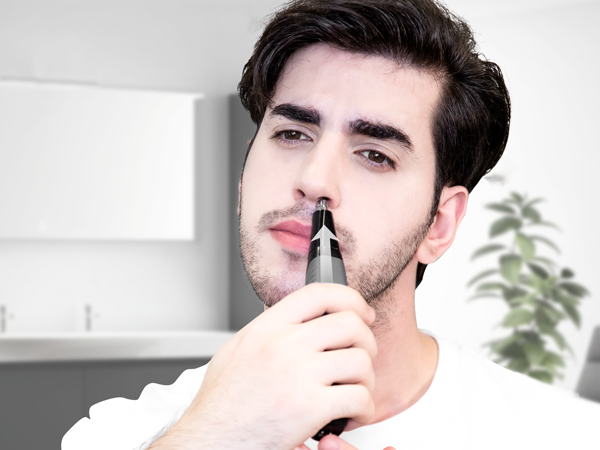 Comb Hood (Shaped)
1 & 2 & 4 & 6mm different length adjustment to evenly trim and shape any length of hair.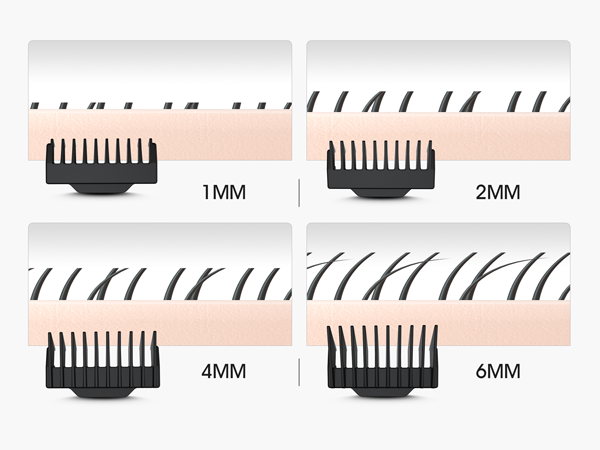 Just one machine brings you the versatility
All the different features for your personalized definition of grooming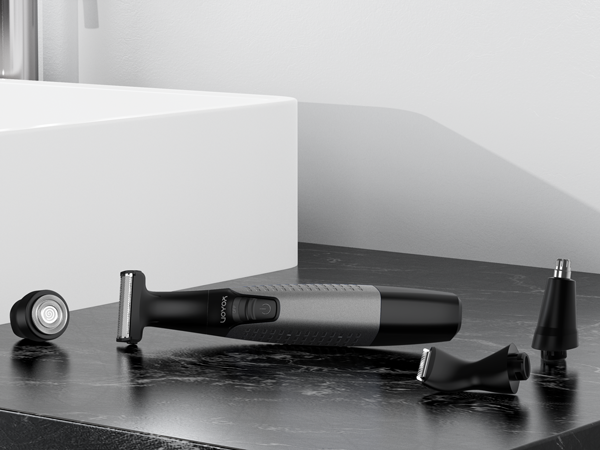 OUR GUARANTEE
Product Warranty - All products purchased from VOYOR come with 2 years warranty.
Unconditional return - You can enjoy a 30-day no question asked return policy after purchasing from our store. Please send us an email at support@voyor.com before returning the product, we will offer you the relevant return information.
 FAQ
Q: Does it work on different parts of the hair?
A: Yes, this razor can be used for full body hair grooming, including facial, head, underarm, thigh and groin hair.
Q: The single rotary head looks small, is it as useful as a razor?
A: A single shaving head can be used for daily shaving of short beards and hairs, or it can be used with a trimming head to trim long, thick hairs first and then for a clean shave.
Q: Can you shave your head with it?
A: Yes, we also have 4 different lengths of trimming combs for you to choose from to trim your hair of different lengths, including your head hairs.
Q: Will it irritate my skin? I mean the sensitive areas?
A: This razor features hypoallergenic blades and a rounded tip design to protect your sensitive skin from irritation.
Q: Can I use this in the shower?
A: Yes. You can actually use it in the shower and it works great. Then wash it directly under running water, which is convenient.
Frequently Asked Questions
How long is the product's warranty? The product is broken, can it be replaced?
The warranty for VOYOR products is two years. If you have any questions about the product, please feel free to contact us.
We will do our best to help you solve the problem. Please click here, and be sure to attach the order number so that we can help you better deal with the problem. Thank you.
For detailed refund policy, please click here.

How to return the products? Is there a refund?
We will refund no-asking within 30 days. If there is any dissatisfaction with the product, please contact us in time and we will tell you the address where the product can be returned and related refund matters.
For detailed return policy, please click here.

How long will it take to receive the products after placing the order?
When your order is completed, we will deliver the products for you within 24H, if there are no special circumstances. If there is, we will contact you in advance. We will arrange delivery according to your geographic location, and you will receive the products within 3-7 business days.
For detailed shipping policy, please click here.
About free gift or QR code
If you have received a free gift card or the QR code is invalid, please contact us directly through the contact us page and we will teach you how to get a free gift.
Didn't find your answer?