VOYOR blackhead vacuum pore cleanser BR610
Regular price
$34.99
/
Standard shipping charges 5$, including tax
---
If you have been troubled by blackheads for too long, you might as well try VOYOR blackhead remover BR610. VOYOR 2nd generation pore vacuum cleaner offers you more powerful suction to remove your oil, dirty from your pores, thereby effectively remove nose blackhead, whitehead, acne, dead skin and make your skin more vibrant, firm, and fresh.  Plus, its charming curve design makes you fall in love with it. So, it is absolutely a perfect choice for you to send your family or friends as a gift.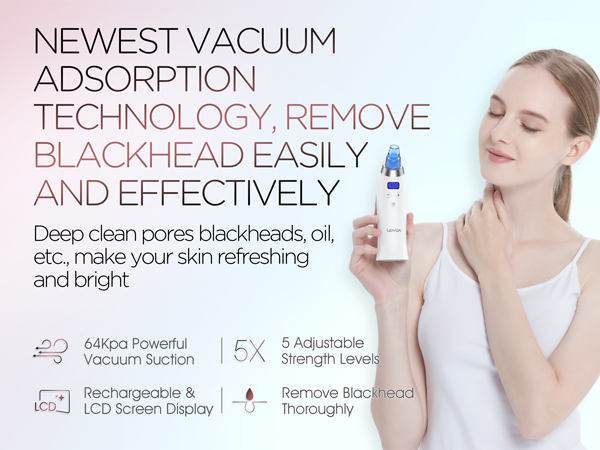 Powerful vacuum suction
64Kpa suction clean up the blackhead from the root
Safer and hygienic way to clean and solve clogged pores, purifies skin thoroughly and shrink pores.
LCD Screen Display
Mode and remaining power are clear at a glance
Will not injure face by selecting wrong level accidentally, avoid care interruption due to no power.
5 Suction Levels
More suction levels are available to run more head
More suction levels than others, no harm to sensitive skin with lower level,higher for deep cleaning
5 Multi-functional heads
Its diversity designed to meet regular using
Cater to different types of skin, different shape and material of heads cover broad or smaller areas
Your skin care specialist
Keep a fresher,cleaner,and young-looking
Pore sucker take away hard-to-remove dirt normally,work incredibly,just imagine how much it suck out

Product details:     
POWERFUL BLACKHEAD & PORE VACUUM
Upgraded pore cleaner has more powerful suction and offers deeper cleansing for your skin, helps you get rid of kinds of facial skin problems effectively, including stubborn blackheads, whiteheads, acne, grease, dead skin, makeup residues, fine lines, etc.  
5 ADJUSTABLE STRENGTH & LEVEL DISPLAY
 You can easily adjust the most appropriate suction levels for your different skin areas. It will also show you which level is selected and how much battery left with its LCD digital display screen. Level 1-3 is for sensitive and dry skin, level 2-4 is for neutral skin, and level 3-5 is for mixed and oily skin.


Rechargeable & Portable
Long-standby and compact design are convenient travel. Pore cleaner is built-in 1000mah Li-ion of battery capacity and only 1.5 hours to fully charge.
Suitable for all skins
Choose the suction that suits you. Level 1-3 is for sensitive and dry skin, level 2-4 is for neutral skin, and level 3-5 is for mixed and oily skin.
Easy to clean
No need to clean the device, simply remove the replacement head rinse under the tap.
Excellent Holiday Gift
Helps remove blackheads without irritation, can be given to teenage boys or girls.And it is also suitable for everyone who loves skin care.
Specifications:
Product name: VOYOR 5-IN-1 BLACKHEAD REMOVER
Model: BR610
Material: ABS
Working voltage:7V
Working power:5 W
Battery capacity:1000mAh
Product size:7X4.7CM
Product weight:300 g
Charging time:2H
Package Content:
1 x VOYOR BR610 blackhead remover
1 x Large circular hole head
1 x Small circular hole head
1x Microcrystalline hole head
1 x Oval hole head
1 x Silicone head
8x Filter sponges
1 x USB charging cable(USB charger not included)
1 x User manual
5 Practical functional Heads, stop suffering from skin problems
For weak & gentle suction that work on thin,tender or sensitive skin.
For strong suction to effectively remove blackhead, grease,cosmetic residue etc.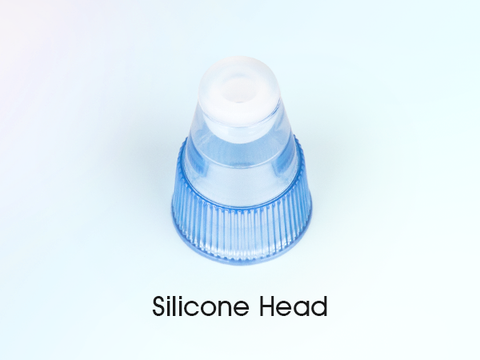 For gentle suction,suitable for using on your sensitive skin.
Effective cleaning for sides of nose. Lessen your wrinkle and tender your skin.
Remove your dead skin, and bring you brighten and soft skin.
Certainly clean out your pores, get the incredibly satisfying result
Prep and clean so that let the purifying begin:
Apply cleaner or soap on the facial cleaning brush to cleanse your face. Use a towel or facial steamer to open pores or use soften the blackheads.
Read the Operating Directions:
Move slowly & horizontally in one direction (Do not hold it in one place more than 2 seconds)
For sensitive skin:
We kindly advise you to use the silicone head and start from strength level 1 and make a test on the skin behind your ear first. Do not use the device on sensitive skin areas.
Caution when using:
Make sure it stays NO MORE THAN 2 SECONDS for any spot to avoid red and purple skin.
Extra things for it to do the good job:
Use cream, toner or a facial mask to shrink pores and calm the skin after using.
Vacuum adsorption to maximize blackhead removal
Excellent black head extractions tool purify and shrink your pores, enjoy a clean and refreshing feeling anytime and anywhere
OUR GUARANTEE
Product Warranty-All products purchased from VOYOR come with 2-year warranty.
Unconditional return-You can enjoy a 30-day no question asked return policy after purchasing from our store. Please send us an email at support@voyor.com before returning the product, we will offer you the relevant return information.
 FAQ
Q: Is it normal for Blackhead Remover Vacuum to leave a little redness on my face after the first use? and how to solve?
A: Due to the suction effect of vacuum pressure and different skin types of people, redness of the skin after suction is normal phenomenon. Do not worry, generally, the mark will disappear in 1-3 days automatically, or you can use ice cubes to relieve it.
Q: Can it be used by young teenagers?
A: Yes, Blackhead Remover Vacuum is designed for different skin types,different heads and strength level are suitable for different using needing. Our product is safe for using and suitable for most people, so please rest assured.
Q: What's the right way to use it?
A: Move the device from one direction instead of pulling up. Stay time don't exceed 2 seconds.
Note: 1. Choose a heads to fit different face areas.
2. Please test skin from lowest suction, so as to avoid to become bruise as much as possible.
Q: Why can't my blackhead suck out?
A: Before using the product, it's better to use hot steamer or towel on your skin for 5-10 minutes to open your pores first. This step is important if you have dry skin.Then you can adjust the strength level according to condition of blackhead.
Q: Does my pore will be large?
A: Don't worry totally. Compared to other methods, this blackhead cleanser device doesn't use harmful chemicals, making it harmless, painless and gentle. And This product using vacuum technology is safer and gentler by hand directly.
Frequently Asked Questions
How long is the product's warranty? The product is broken, can it be replaced?
The warranty for VOYOR products is two years. If you have any questions about the product, please feel free to contact us.
We will do our best to help you solve the problem. Please click here, and be sure to attach the order number so that we can help you better deal with the problem. Thank you.
For detailed refund policy, please click here.

How to return the products? Is there a refund?
We will refund no-asking within 30 days. If there is any dissatisfaction with the product, please contact us in time and we will tell you the address where the product can be returned and related refund matters.
For detailed return policy, please click here.

How long will it take to receive the products after placing the order?
When your order is completed, we will deliver the products for you within 24H, if there are no special circumstances. If there is, we will contact you in advance. We will arrange delivery according to your geographic location, and you will receive the products within 3-7 business days.
For detailed shipping policy, please click here.
About free gift or QR code
If you have received a free gift card or the QR code is invalid, please contact us directly through the contact us page and we will teach you how to get a free gift.
Didn't find your answer?