VOYOR Facial & Body Cleansing Brush FB100
Regular price
$24.99
Sale price
$18.99
/
Standard shipping charges 5$, including tax
---
VOYOR facial cleansing brush is equipped with 5 functional brush heads, among them a body brush. This spin brush can meet all the cleaning needs of your face and body. For the face, there are 3 heads that can be used to effectively remove oils, dirt, makeup residues, blackheads, whiteheads, dead skin and acne from pores. For the body, the bath body brush can clean away dirt, oil, acne-causing germs, and dead skin cells on your body skin. For feet, the dead skin remover head can remove your dead cells and dead skins under your elbow or your foot and keep your skin smooth and tender.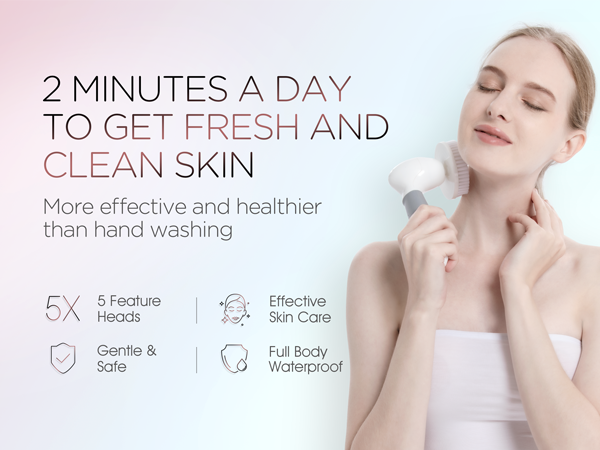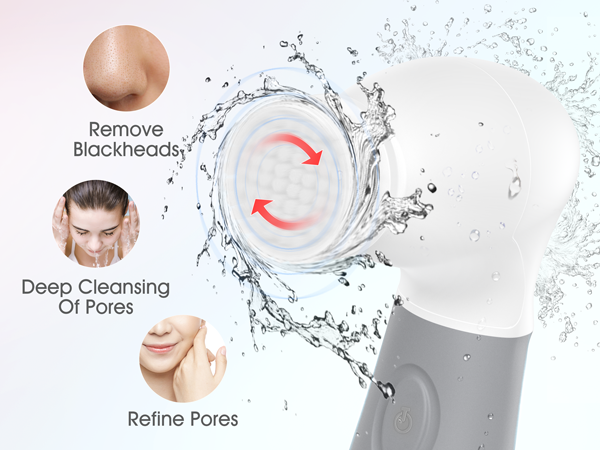 360° Efficient Rotation
Powerful electric spin brush for all-round care
Face brush deeply removes oil and dirt from skin, and exfoliating for brighter and healthier skin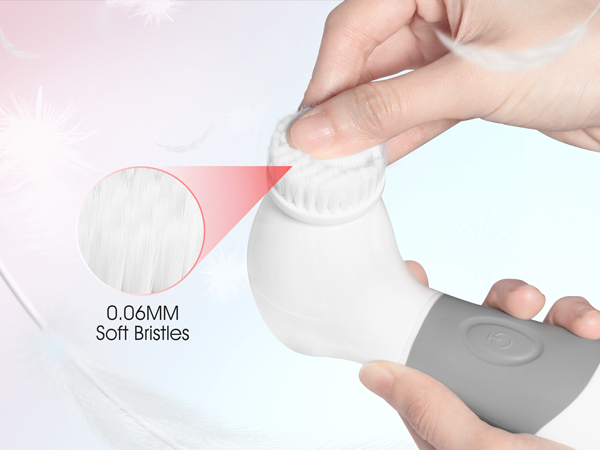 Silky Soft Bristles
Experience soft and delicate touch and massage
60 micron microfiber works gently on the face, quickly complete daily cleaning routine without hurt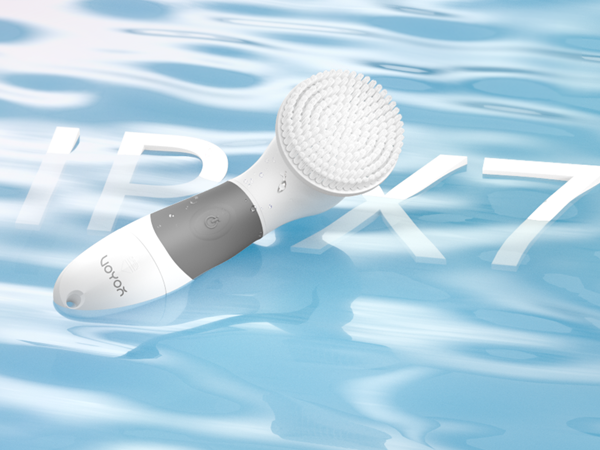 IPX7 Waterproof Design
Excellent water resistance prevents penetration
Wrapped with waterproof silicone makes it is washable, no chance of water ingress and mildew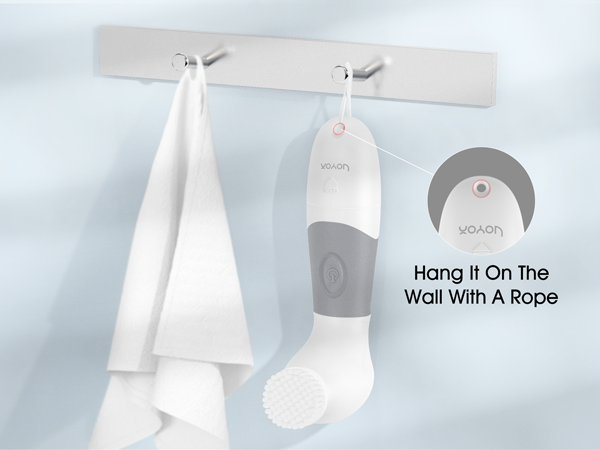 Small Hook in the Bottom
Hang it up to dry out so bacteria won't grow on it
Just hang it on a vanity hook for easy access, no need to take up extra space in your tool storage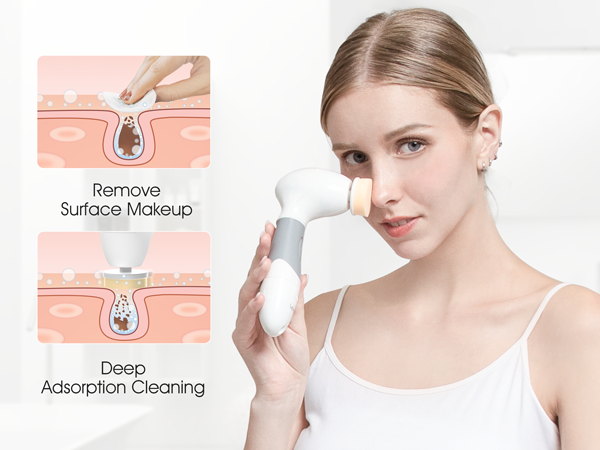 Electric Makeup Remover
Perfect cleansing effects on hard-to-remove makeup
Stronger adsorption than cotton pads, remove makeup on face, eyes, lip, and take away residue easily
Product details:                                                          
FACIAL & BODY CLEANSING SET
There are 2 face cleansing brush heads and a bath body brush. The sponge makeup remover head and dead skin remover head are also included. One cleansing device can satisfy your different skin cleansing needs.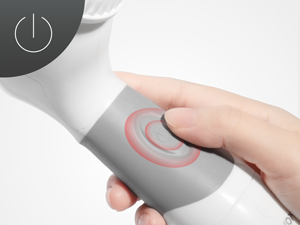 One Button Operation&Cordless
A button to turn on, children and the elderly can also be easily operated; Not connected to electricity makes the use of safer and more secure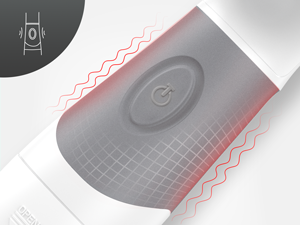 Non-slip Handle
The handle is added with silicone material to avoid slipping, and silicone covers the switch key to increase the waterproof performance of the product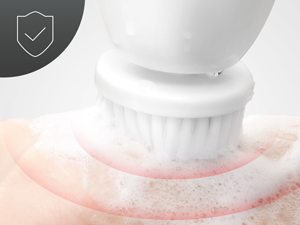 Safe & Less Irritation
High-quality bristles are safe and non-irritating, soft bristles ensure the comfort and suitable for all skin types even sensitive skin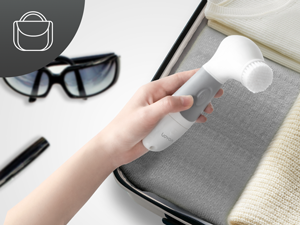 Convenient to Use & Portable
Battery-powered makes it simple and convenient to use, no need to charge. It is stylish and compact, about 140g, which is great for business travel
Specifications:
Product name:VOYOR 5-IN-1 FACE BRUSH
Model:FB100
Material:ABS
Working voltage:6V
Power supply:4pcs AA batteries (not included)
Product size:17.7*7.6*4.7cm
Product weight:128 g
Package Content:
1 x VOYOR FB100 Face Brush
1 x 0.08mm normal face brush head
1 x 0.06mm sensitive face brush head
1 x Body cleansing brush head
1 x Dead skin remover head
1 x Makeup remover brush head
1 x User manual
5 replacement heads to meet your individual needs of skin care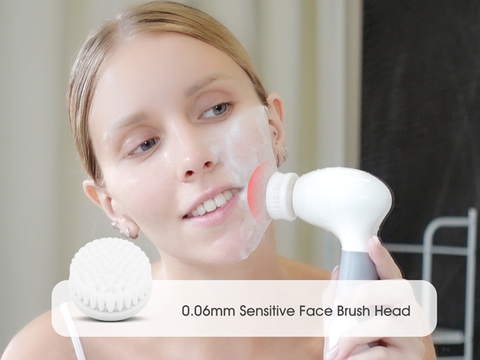 0.06 mm thinner and softer bristle is gentle for sensitive skin. It can create a dense foam, and it is beneficial to let the cleansing foam deep into the pores to bring out dirt.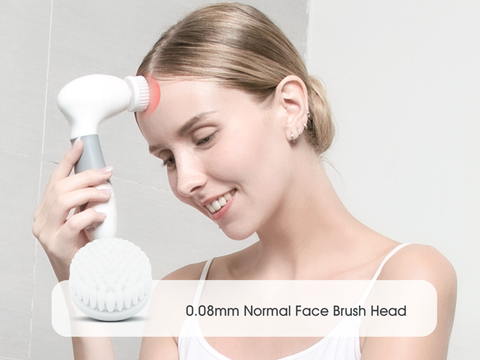 Soft enough yet sturdy. It works well slightly damp and with foam, at buffing off dead skin gently and removing blackheads from your cheek, jaw, nose.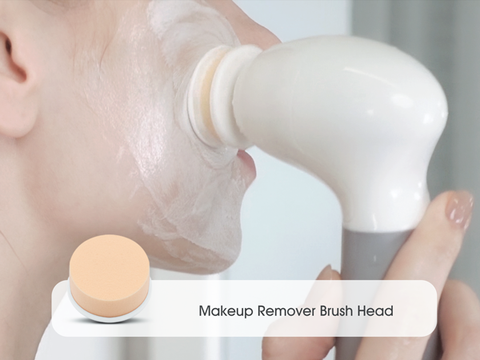 The soft makeup remover sponge, gently removes makeup, leaves the skin without residue, no irritation, reduces makeup damage, and cooperates with facial massage to relieve puffiness.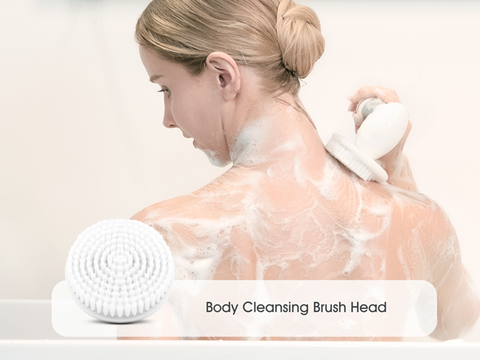 Used for body skin cleansing, the large brush gently touches your skin, leaving your body clean and soft. Promote blood circulation and relax the body while cleansing.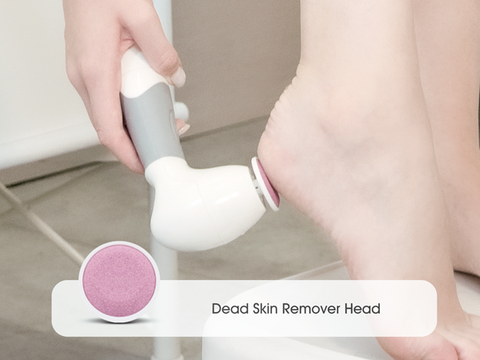 It can remove dead cells and dead skin from your feet and keep your feet skin smooth and tender.
USE THE FOLLOWING METHOD TO LET YOU BETTER USE THE FACIAL SPIN BRUSH
How to open the battery cover easily?
To remove the battery cover, hold the body of the device with one hand and use the palm of the other to bend the battery cover at an angle of 90 degrees, the battery cover will easily fall.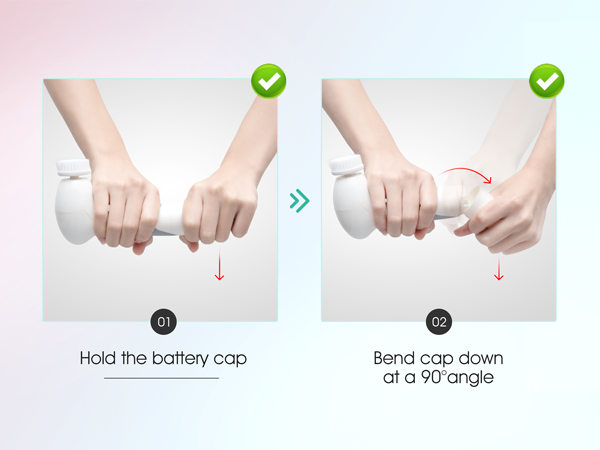 How to replace the battery?
1.Open the battery cover and place the battery in the correct direction
2.Put the battery cover on and press the power button to continue using the face cleanser brush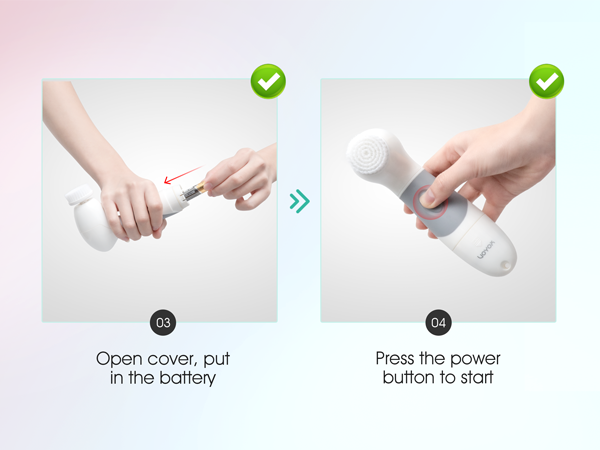 DO NOT open the battery cover with the wrong way
1.Don't pry open the brush with sharps, it is dangerous and may hurt you
2.Don't pull the battery cover directly in the opposite direction to the body of the device, as it will be difficult to remove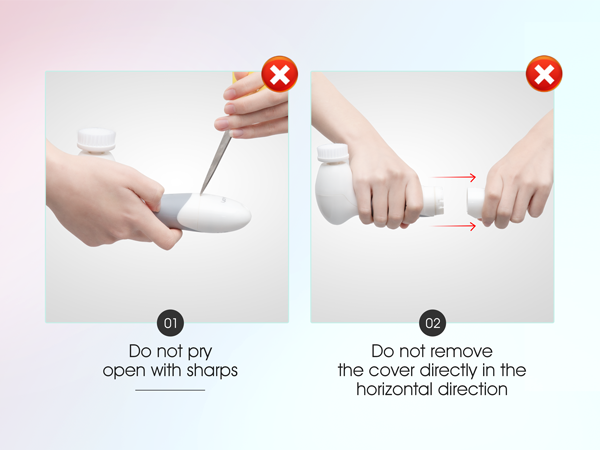 Hand-washing way fail to cleanse thoroughly
Washing face with your hands only clean the dirt on the surface, and there are still a lot of residues in the deep pores. While using a face cleansing brush can achieve a thorough cleansing effect.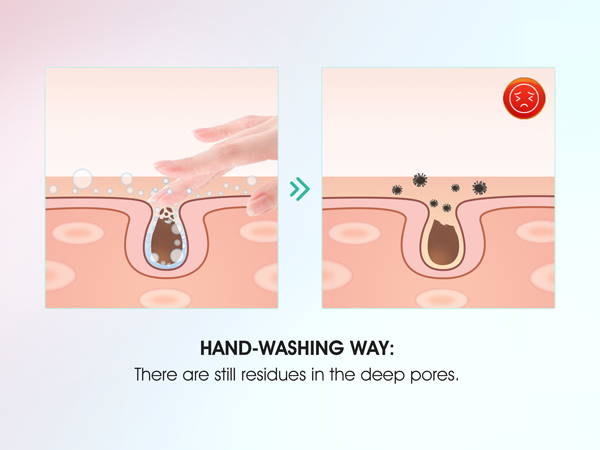 Facial brush for more efficient, hygienic cleaning
Reduces direct hand contact with the face, blocking bacteria from causing skin troubles. Experience a new way of cleansing your face that brings you a different kind of change.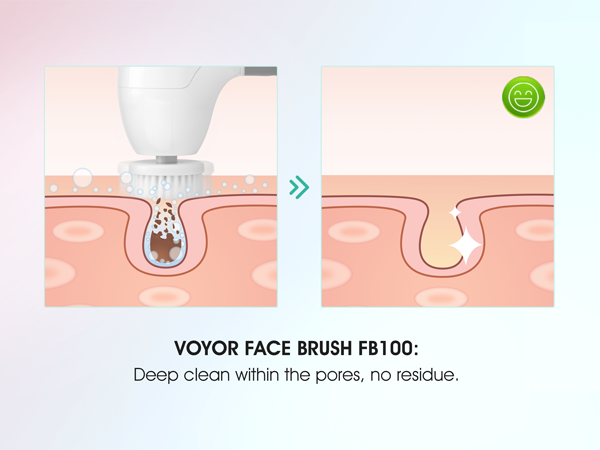 OUR GUARANTEE
Product Warranty-All products purchased from VOYOR come with 2-year warranty.
Unconditional return-You can enjoy a 30-day no question asked return policy after purchasing from our store. Please send us an email at support@voyor.com before returning the product, we will offer you the relevant return information.
 FAQ
Q: Does it really works? What's the purpose of this?
A: It helps take off the top layer of oil, dirt, dead skin to make skin much more smooth. It also helps to minimize pores. And this different from traditional face washing because higher efficiency cleansing and better health.
Q: How often should I use it?
A: The brush is very gentle and non-irritating, you can use it every day whether you are cleansing your face or taking a shower. You can also adjust the frequency of use according to your skin condition.
Q: Does these brushes hurt skin?
A: No, it does not. Our bristles adopt 60 micron ultrafine fiber, effectively remove the blockage in pores, mild and non-irritating, not hurt the skin. Sensitive muscles can also be used.
Q: What should I do if I accidentally get water into the battery compartment?
A: Please take out the battery, you can dry the water and put it in a ventilated place. Then you can reboot and use it after one or two days.
Q: Will I get excellent after-sales service?
A: Please let us know if you encounter problems with the product. VOYOR attaches great importance to the customer's purchasing experience! As long as you get touch with us, we will definitely provide you with a suitable solution.
Frequently Asked Questions
How long is the product's warranty? The product is broken, can it be replaced?
The warranty for VOYOR products is two years. If you have any questions about the product, please feel free to contact us.
We will do our best to help you solve the problem. Please click here, and be sure to attach the order number so that we can help you better deal with the problem. Thank you.
For detailed refund policy, please click here.

How to return the products? Is there a refund?
We will refund no-asking within 30 days. If there is any dissatisfaction with the product, please contact us in time and we will tell you the address where the product can be returned and related refund matters.
For detailed return policy, please click here.

How long will it take to receive the products after placing the order?
When your order is completed, we will deliver the products for you within 24H, if there are no special circumstances. If there is, we will contact you in advance. We will arrange delivery according to your geographic location, and you will receive the products within 3-7 business days.
For detailed shipping policy, please click here.
About free gift or QR code
If you have received a free gift card or the QR code is invalid, please contact us directly through the contact us page and we will teach you how to get a free gift.
Didn't find your answer?